Did he go too far? Eddie McGuire slammed for 'anti-Semitic' comments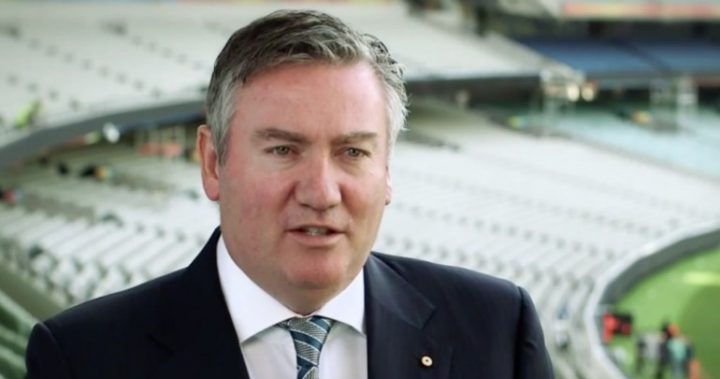 Eddie McGuire is one of the country's most-loved game show hosts.
The 53-year-old has appeared on a number of TV programs, ranging from The AFL Footy Show to Who Wants to Be a Millionaire and his current role on Millionaire Hot Seat.
While he's known for being cheeky, recent comments he made to a contestant on the hit Channel Nine show have been slammed by some of the country's leading civil rights organisations.
In the episode, a contestant named Serena Greenberg was hoping to win $20,000.
Ad. Article continues below.
She explained to McGuire that she wanted the money so she could pay for her parents to travel overseas to visit their grandchildren.
Out of nowhere, the host asked: "Your dad's not Jewish, is he?"
The contestant confirmed that her father was in fact Jewish.
Read more: Eddie McGuire cops backlash over women's AFL diss
McGuire continued: "So you have a Jewish father and a Scottish mother. I reckon it would have been hard getting pocket money from them!"
Ad. Article continues below.
While the contestant and audience laughed at the time, the Herald Sun confirmed that the Anti-Defamation Commission had received numerous complaints regarding the comment.
The commission is one of the leading civil rights organisations in the country, with chairman Dr Dvir Abramovish branding the comments as "disappointing".
"While we appreciate the value of humour and give entertainers a lot of leeway, public figures need to show sensitivity and be careful not to traffic in age-old hurtful and demeaning stereotypes, especially those commonly associated with anti-Semetic myths," he explained to the Herald Sun.
Read more: Funniest TV moment ever? Chase host loses it over 'inappropriate' name
"Denigrating any group by implying that they are stingy and cheap is always inappropriate and never funny.''
Ad. Article continues below.
He added that he was shocked producers didn't edit the joke out of the episode and said that it's often the younger generations that bear the brunt of such comments: "And though he may not be aware of this, I will remind Eddie that it is often young people who the pay the price for such slurs by being taunted at school with crude, damaging smears. "The bottom line: such jokes are never acceptable."
McGuire dismissed claims that his comments were hurtful, telling the Herald Sun he didn't intend for any harm with his comments.
"It was about Scottish people, of which I am one," he said.
"It was a joke aimed at myself and my family. We had a laugh, we moved on."
What did you think of Eddie's joke? Was it funny or was he taking thing too far? Do people have a right to be upset or is this another example of PC gone mad?