David Bowie's son calls dad's songs 'boring', doesn't like music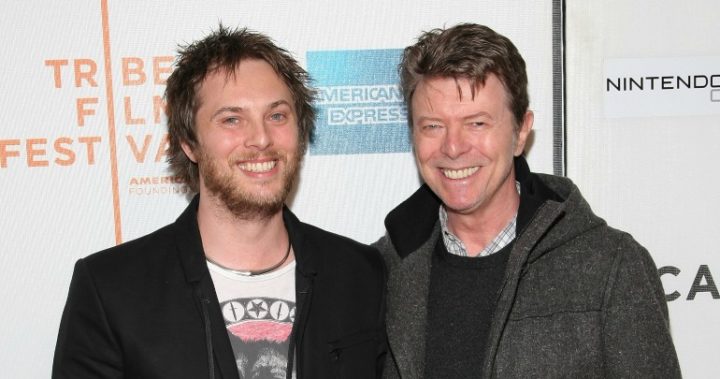 To most of us, David Bowie is a music legend, however, his son isn't much of a fan. Bowie's filmmaker son Duncan Jones has revealed he doesn't have much "enthusiasm" for music and prefers watching the news. 
In an interview promoting his new film Mute, he told podcaster and stand-up comedian Marc Maron he wasn't thrilled watching his father create big hits like 'Modern Love' and 'Heroes'. He likened his father's music career to a normal job that any dad might have, saying: "I never really got into music. It's like work – watching your dad do accounting. I listen to a lot of CNN and watch a lot of news."
Jones said he was always more interested in making films and that music didn't feel natural to him, "I think I pushed away from it. I didn't want to play guitar or drums or sax. I was constantly urged by Dad to learn an instrument but I was not interested. I listened to music but not with any great enthusiasm."
Jones said it was quite normal for famous people to frequently drop by his house when growing up, but said he was never star-struck.
He mentioned that being on the set of Labyrinth with his late father started his love of films, a love that his dad encouraged and nurtured. He also joked about his dad letting him watch Clockwork Orange at "way too young" an age–but conceded that many of the references went straight over his head. Jones has had great success directing–winning a BAFTA Award for Outstanding Debut by a British Writer, Director or Producer for his 2009 film Moon.
Ad. Article continues below.
While he says he is not a fan of his dad's music he told Moran that Bowie " was a great father" and that he "had an unusual upbringing, but not a negative one."
When asked about his mother, Angie Bowie, Jones revealed he hasn't talked to her since he was 13 and called her a "corrosive person". He talked warmly of his nanny, Marion Skene, who he became a surrogate mother to Jones when he was young.
He told the podcast host that it had been a hard couple of years with Skene dying from cancer in 2017 and his father also passing away from cancer a year earlier.
When asked about the extent of his father's illness when recording his final album Blackstar, Jones refused to comment out of respect for the rest of his family.
"He knew he was sick. And there was an amazing effort by him to keep focused on making Blackstar," he said.
Ad. Article continues below.
Are you a fan of David Bowie? What's your favourite David Bowie hit?
With Facebook removing news sites from your feeds we ask that you sign up for Starts at 60's emailers here. And to keep us on your wall, join some of our new Facebook groups and clubs:

News Junkies Club – Australia
News Junkies Club – USA 

See news on the change and links to all our other clubs and groups here.