Bette Midler shocks onlookers in outlandish outfit at dress-up party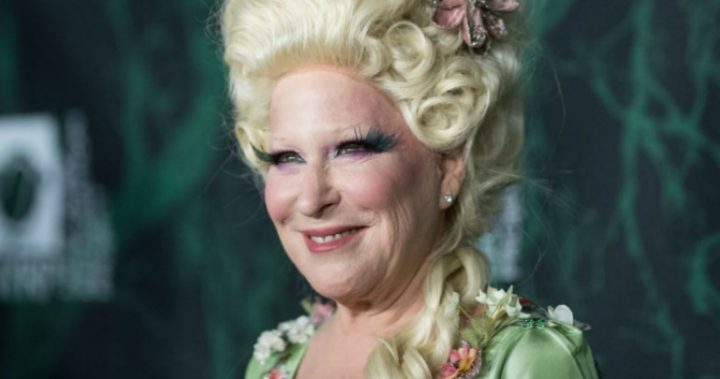 Is it just us or does it feel like a lifetime since we've seen the legendary Bette Midler out and about?
The 71-year-old star hosted a star-studded dress-up party in New York overnight.
Followers of the Broadway legend will know that she hosts a Halloween party every year to benefit the New York Restoration Project.
Read more: Bette Midler pauses Trump tweets to share sweet family photo
Ad. Article continues below.
A number of well-known faces walked the red carpet of the event, but it's fair to say Midler stole the show.
Always known for her outlandish costumes, the Beaches star didn't disappoint at this year's event.
The only problem is we're not too sure who Midler was meant to be.
The singer wore an extravagantly tall blonde wig that looked like it could rival Marge Simpson's hair.
Ad. Article continues below.
Read more: Bette Midler 'fat shames' Trump sons over bad photo
She went into so much detail with her outfit that flowers were even woven into Midler's lavish locks.
The 'Wind Beneath My Wings' songstress wore heavy makeup for the outing, reminding us of the time she played a witch in Hocus Pocus.
If that wasn't enough, the star wore a stunning figure-hugging gown.
Similar to her wig, Midler's green dress was laced with plenty of colourful flowers.
Ad. Article continues below.
It was definitely an outfit that only she could pull off.
Read more: Bette Midler shows off glittering gown and potty mouth
While Midler had great intentions for the night, it didn't all go to plan.
The event was held at the Cathedral Church of Saint John the Divine and Midler had to change one of the night's entertainment slots.
Page Six reports that the church became unhappy when they learned that Midler had asked famous burlesque dancer Dita Von Teese to perform at the event.
Ad. Article continues below.
Given that she was once married to the Satanist rock-star Marilyn Manson, we're not surprised.
Still, you've got to hand it to Midler and the work she does for charity.
Who do you think Bette Midler was meant to be at her dress-up party? Are you a fan of her costume?