Bert and Patti Newton in good spirits following health scares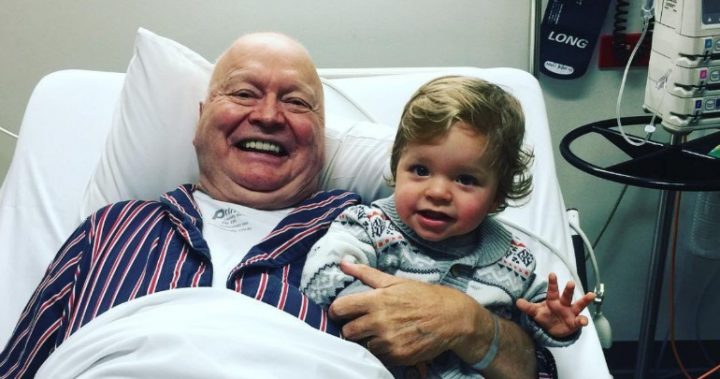 They're arguably one of Australia's most-loved couples and it looks like Bert and Patti Newton are in good spirits following a series of health scares in 2017.
The couple have been married for 43 years and look to be healthier than ever after a troubling year. In October, 72-year-old Patti was knocked unconscious by her beloved family pet dog.
At the time, she explained that her tiny poodle made a grab for her grandson's dummy, resulting in her falling and hitting her head. "I was sitting at the table and Billy, the little dog, grabbed Monty's dummy and I put my foot out to stop him getting it, and the chair slid back and I fell off and my head hit the edge of the chair, and then I hit the tiles and I went out to it," Newton told the Herald Sun.
Read more: 'The love of my life': Patti Newton shares sweet tribute to Bert
Ad. Article continues below.
She underwent a series of tests at a Melbourne hospital and suggested that she was lucky her injuries weren't worse. "It could have been a disaster, but it wasn't," she said. "I was lucky I hit my head rather than my neck and my spine."
Earlier that year, 78-year-old Bert missed the Logies because he was in hospital with pneumonia. At the time, he was extremely ill and was in hospital for quite some time recovering.
Ad. Article continues below.
Patti famously wore a flamboyant jacket with her husband's face on the back to the event, so he was still part of the show. "Even though Bert's not well I'm taking him to the Logies," she said at the time. Thankfully it looks like the pair are well on the road to recovery.
Patti, a lover of social media website Instagram, has been updating fans with news of the couple's health and adventures.
Read more: The moment Bert Newton realises he has a bit of competition
She recently shared a snap of the pair on holiday. Bert looks relaxed in a cap and a pair of shorts, while Patti can be seen in a beautiful floral dress and sunglasses, resting her feet on her beloved husband's lap.
Ad. Article continues below.
"Life's pretty good," she captioned the photo. In another video, Bert was walking two dogs and wished their fans and supporters well for the new year.
Other snaps show the couple spending quality time with their family members, grandchildren and friends. Their troubled son Matthew Newton has not featured in any of the recent updates.
Ad. Article continues below.
Their good health will come as welcomed news to fans of the iconic Aussie couple. Bert has hosted the Logie Awards 19 times and has appeared in countless TV and radio shows for decades.
It's good to see them looking so happy.
What do you think? Are you a fan of Patti and Bert Newton?