Bernard Tomic to star in 'I'm A Celebrity ... Get Me Out of Here!'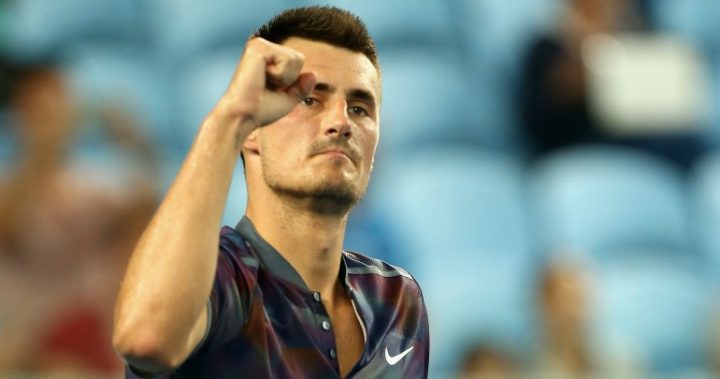 After a number of rumours that the tennis star might take a starring role in the show, Bernard Tomic confirmed in an interview with The Daily Telegraph that he would be participating in I'm A Celebrity … Get Me Out of Here!.
When Tomic debuted as Australia's newest tennis star, most Aussies had high hopes. However, his off-court antics quickly awarded him with the label of a tennis bad-boy.
Through this new reality TV project, Tomic told the Daily Telegraph he wants the chance to 'change his image' and show Australians a different side to his personality.
Earlier this month Tomic spat the dummy when he failed to qualify for the Australian Open. He told reporters it did not matter because he could go home and 'count his millions'.
Looking back on the incident he told the Daily Telegraph, "I regretted it about five minutes after. I think I just used it as a defence mechanism after the match I lost".
Ad. Article continues below.
Tomic really could be counting his millions after appearing on I'm A Celebrity … Get Me Out of Here! if rumours are to be believed. The Herald Sun reported that Tomic has been boasting that he's been offered more than a million dollars to appear on the popular show.
Many think he's been intentionally showing a lack of interest towards tennis so he can participate in the show.
The show, which airs on Network Ten, drops a load of Aussie personalities into a jungle in Africa. While suffering through the trials of living together in the jungle, the celebs must complete hard challenges and often times participate in gruesome tasks to win foods and comforts for the camp. The program was won last year by former Australian Idol contestant Casey Donovan.
While Tomic hopes his stint on the show will redeem himself in Australia's eyes; it is notoriously hard to shake a bad-boy image in sports.
John McEnroe will always be remembered for his confrontational on-court behavior that frequently landed him in trouble with umpires and tennis authorities.
Ad. Article continues below.
Boxing champ Anthony Mundine is also often noted more for hurling insults than winning matches of late.
So, do you think Tomic has a chance of redeeming himself? Do you think he will make a good addition to the I'm A Celebrity … Get Me Out of Here! cast?
With Facebook removing news sites from your feeds we ask that you sign up for Starts at 60's emailers here. And to keep us on your wall, join some of our new Facebook groups and clubs:

News Junkies Club – Australia
News Junkies Club – USA 

See news on the change and links to all our other clubs and groups here.