Barbra's first Ellen appearance leaves crowd in stitches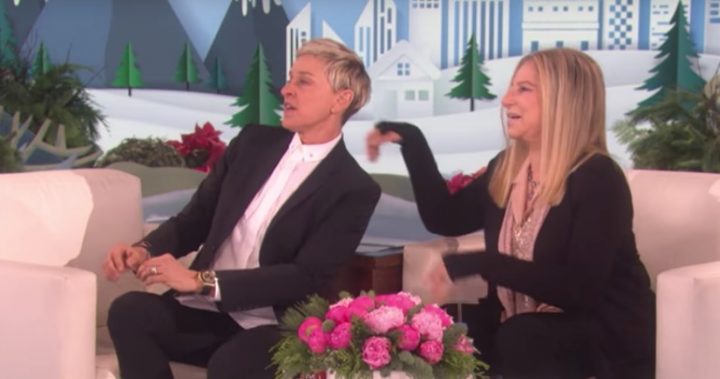 She's one of the biggest stars of all time but it looks like Barbra Streisand has insecurities like everyone else.
The star stopped by The Ellen DeGeneres Show last week to talk about her new Netflix special, Barbra: The Music … The Mem'ries .. The Magic!
Anyone who has ever watched DeGeneres' show knows that the host always occupies the seat on the right-hand-side of the screen, while her guest always sits on the left.
Things were a little different for Streisand's interview and DeGeneres was quick to point out what was going on.
Ad. Article continues below.
"Now you're sitting there because you prefer that side. And here's the thing. I prefer that side, too," she told the singer.
"Everybody has a better side. I don't know how many people know this but everyone has a better side. That is also my better side. So what I thought about doing today was both of us talking in this direction."
The audience erupted in laughter as DeGeneres began having a conversation with Streisand while facing away from her.
The 75-year-old singer told the host that she was "very sweet" for agreeing to switch seats with her, while DeGeneres assured her that she looks good from both sides.
Read more: Over and out: Barbra Streisand quits performing for good
Ad. Article continues below.
Streisand wasn't sure and explained: "I have two different sides to my face. I swear to God.
She also suggested that she wasn't thrilled by the outcome of her new Netflix concert special.
"So on my television show, the Netflix show that's coming out, we shot it. Usually you shoot two shows so you can pick and choose the best performance," she said.
"In this case we had no rehearsal. No camera rehearsal and whatever we got, we got. You know what I mean?"
The 'It Had To be You' songstress went on to suggest that the cameras weren't in the right place to capture her best angles.
Ad. Article continues below.
Read more: Barbra Streisand has a very snappy comeback for age-shaming tweeter
"The cameras were in the wrong place half the time. It was just to be free and feel the response from the audience and play with them and so forth" she said.
"And it is all on my, well not on my wrong side, but mostly. So isn't that funny?"
Again, DeGeneres told her that she didn't have a wrong side.
She went on to gush over Streisand's career but questioned why she chose to film a TV special, given how shy she is.
Ad. Article continues below.
The Hello, Dolly! star said that she wanted to document the making of a show, even if she didn't release it.
"What's wonderful is I don't enjoy performing, I always have a bit of stage fright. It's not a comfortable feeling," she said.
"This is great because for like $10 a month, the whole family can see any show and I don't have to perform it."
She confirmed that she won't tour again and while she isn't retiring from the business as such, hinting that she'll still direct movies and record albums.
What do you think of Barbra's antics?