Barack Obama crashes wife's interview for anniversary tribute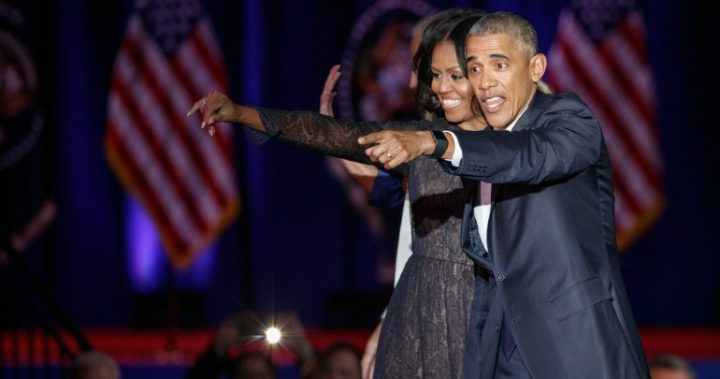 Whether you loved or hated former US president Barack Obama, you can't deny that the relationship he has with wife Michelle is pretty cute. Their sweet banter, devoted looks and enduring love were a staple of Barack's presidency. And it seems even after Barack's eight-year term has ended, he's determined to share his love with the world. 
Michelle shared a special post on Instagram on October 3 to commemorate her 25th anniversary with Barack. The black-and-white photo of their wedding in Chicago in 1992 was accompanied by a simple caption. 
"Happy 25th anniversary @barackobama," the caption began. "A quarter of a century later, you're still my best friend & the most extraordinary man I know. I [love] you." 
Ad. Article continues below.
A picture may say a thousand words, but Barack was not about to let the special day go without a grand gesture. 
Michelle was on stage at the Pennsylvania Conference for Women with renowned TV producer Shonda Rhimes when a video message from Barack interrupted the talk with a pre-recorded video message.
Read more: Michelle Obama accused of racism following Dr Seuss debacle
Clad in a simple black-and-white striped dress, the former first lady no doubt had a growing inkling of what was about to happen when her husband appeared on the screen. People in the audience were quick to whip out their phones and capture the message on camera. 
Ad. Article continues below.
"I had to crash this party because today we have been married for 25 years," the former president said in his video message. "The idea that you would put up with me for a quarter of a century is a remarkable testament to what a saintly, wonderful, and patient person you are. 
"It was a lot easier for me to do it because the fact of the matter is that not only have you been an extraordinary partner, and not only have you been a great friend, somebody who could always make me laugh, somebody who would always make sure that I was following what I thought was right, but you have also been an example to our daughters and to the entire country."
Barack praised his wife for her strength, grace, determination and honesty, and "the fact that you look so good doing all of this", which drew delighted laughs from the crowd. 
"It's no wonder that, as people got to know you the way I got to know you, they fell in love … It is truly the best decision that I ever made to be persistent enough in asking you out for a date," the former president said with a smile. "I hope that you feel the same way." 
Ad. Article continues below.
He finished off by thanking the women in the audience for their indulgence, but it was clear that they couldn't be happier with the sweet message from Michelle's husband. 
Read more: Michelle Obama slams women who failed to vote for Clinton
Looking momentarily overwhelmed, Michelle joked that she'd "better get home" after a message like that, and Rhimes quickly wrapped up the interview to a standing ovation.
You can see an audience member's footage of the video message below. 
Ad. Article continues below.
WOOWWOOOWW @BarackObama crashes the party to deliver THE SWEETEST 25th anniversary message to @MichelleObama #pennwomen pic.twitter.com/6btLZoFQf3

— Fabiola Cineas (@FabiolaCineas) October 3, 2017
What do you think of the message?