Awesome video shows 1979 Bee Gees and Glen Campbell duet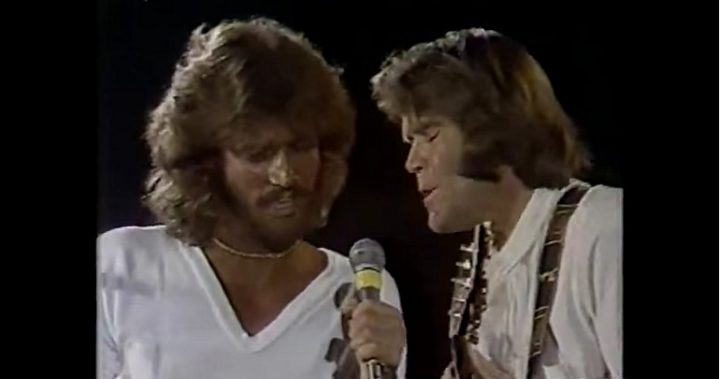 When it comes to the all-time greats of music, the Bee Gees and Glen Campbell are up there with the best.
Following the sad death of Campbell on Tuesday, plenty of old footage of his past performances have been appearing online and thrilling fans all over again.
One video shows the country crooner singing live in a small studio with the Bee Gees and Willie Nelson.
The three power-houses of music rock out to a medley of The Everly Brothers 'Bye Bye Love' and 'All I Have To Do Is Dream' as well as the Bee Gees hit 'To Love Somebody'.
Barry Gibb is seen with his trademark white curly locks flowing and tanned chest peeking through his shirt, while Campbell's facial hair is the envy of every man who's ever wanted near-mutton chop sideburns.
Ad. Article continues below.
Nelson keeps a low profile in the medley, playing guitar and smiling from the sidelines.
The video originally appeared on Youtube in 2012 and has been viewed nearly 500,000 times.
Campbell's musical peers have sent tributes to the star flooding in since Tuesday with the likes of Keith Urban and Brian Wilson of The Beach Boys sharing their heartbreak over his death.
No tribute seems more fitting though than to show the man doing what he does best and to remember him for his musical gift to the world.
Take a look at the awesome video of the Bee Gees, Campbell and Nelson below.
Ad. Article continues below.
Read more: Remembering Glen Campbell's huge impact on music in the '60s
Are you a fan of these three artists? Which is your favourite song?