Andrew Bolt reveals plans to enjoy his empty nest in step back from media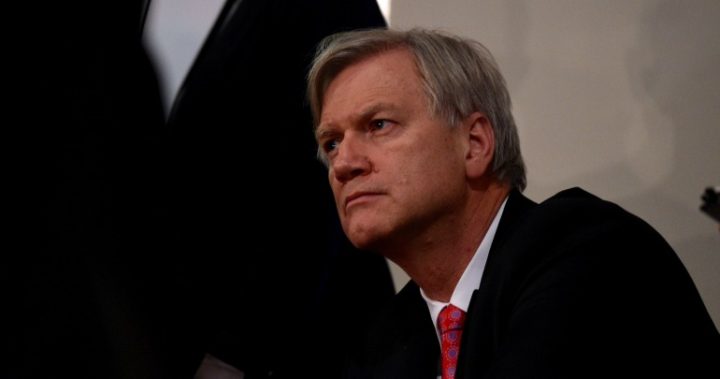 High profile media commentator Andrew Bolt has revealed he's planning to step back from the limelight and reduce his workload to prepare for a relaxed retirement with his wife Sally Morrell.
The host, who will turn 60 next year, opened up on his dreams on The Australian's Behind the Media podcast, saying: "Work less and enjoy more will happen quite shortly."
"That will involve perhaps reading more than writing ­because I think there are so many absolutely wonderful works that have been written that I haven't had the time to read" he added.
Speaking about his plans for retirement, he told the podcast by Stephen Brook: "Build a new home, a library with bedrooms and walls for my paintings and, like Cincinnatus, lay down the sword and take up the plough. Well, plant some citrus trees anyway."
Read more: Andrew Bolt attacked by protestors at book launch
Ad. Article continues below.
Keeping the controversial TV and radio pundit quiet, however, may not be easy. "Sometimes I do think I've got more opinions than is healthy in a normal person," Bolt, who has a regular column for News Corp's tabloids, plus a weeknight show on Sky called The Bolt Report and a radio show on 2GB, admitted. "I shouldn't care so much about so much but to some extent I'm paid to care. Otherwise I don't fill a column. But I don't think you could keep going, particularly against the criticisms you get, unless you did feel these things."
Bolt, who is well known for denying there was any large scale removal of Aboriginal children from their parents for reasons of pure racism, said the criticism he copped for some of his views was worth it because the issues are so important – in fact, he insisted you'd have to be a "psychopath" or "sociopath" to not care about some of the problems facing Australia.
The host famously came under fire for two blog posts he wrote in September 2010 that were challenged under Section 18C Australia's Racial Discrimination Act that prohibits commentators from causing offence. A judge found him guilty of breaching the discrimination act, and Bolt was later sued by nine people involved in making the complaint against him, but he did not have to pay damages.
Describing the experience to The Australian as "horrible", Bolt explained: "I mean, it's precisely ­because I'm not a racist that I wrote the stories, and yet I was condemned for the exact ­opposite".
Read more: Andrew Bolt accuses Malcolm Turnbull of trying to silence him
Ad. Article continues below.
Bolt has previously spoken about his love for his late father-in-law, revealing he keeps him in mind when he writes. He told the podcast host Brook: "He was such a lovely man, loved him to bits. He was a taxi driver and sort of introduced me to the real Australians, as a migrant son of a migrant family that was quite insular.
"I just wrote for him, but I had in mind if I was being read by people like Claude and a lot of other people locked out of the political class and its processes and its codes, it was up to me to try and interpret all these things for people."
Elsewhere in the lengthy chat, Bolt became angry as he passionately defended his support for long-term friend and former prime minister Tony Abbott.
Questioned why he'd remained close to him throughout the years, he said: "What has he done that I should not be his friend? Well, because it's hurting me to be his friend, therefore I should not be his friend? That would be dishonourable".
Are you a fan or foe of Andrew Bolt? Do you agree with his views on the Stolen Generation and other issues?