Amal Clooney steps out in gorgeous summery dress with George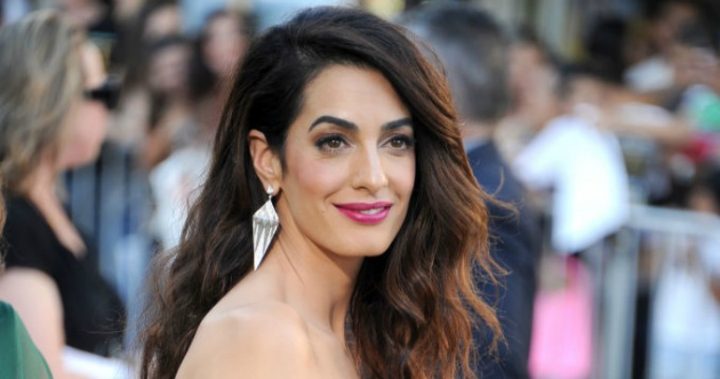 She's recently welcomed a set of twins into the world but that hasn't stopped Amal Clooney from bringing her a-game to the red carpet.
The barrister stepped out at the premiere for Suburbicon, a new film produced and directed by her husband, George Clooney.
The movie made its debut at the Village Theatre in Los Angeles.
Read more: Amal Clooney shimmers in vintage Versace disco dress
While an array of stars attended the event, all eyes were on Mrs George Clooney as she made her way into the cinema for the movie screening. 
Ad. Article continues below.
She opted for a gorgeous floor-length maxi-dress for the occasion. It's a more relaxed look than we're used to seeing on the star. 
It was as if the 39-year-old had come straight from the beach as she smiled and waved to fans in her summery number.
The strapless blue and white dress complimented the humanitarian's shape and reinforced why she's one of the most stylish women in Hollywood.
Ad. Article continues below.
Clooney wore her luscious locks down for the appearance, but topped her look with a simple white clutch and a stunning pair of drop earrings.
She kept her makeup ever so classy and chose a stunning shade of red lipstick for the night.
Perhaps her most wonderful accessory of all was her mother.
In addition to walking side-by-side with her loving husband, the Lebanese-born star invited her mum along to the glitzy affair.
Read more: It's business as usual for glamorous Amal Clooney at UN meeting
Ad. Article continues below.
Baria Alamuddin looked like she was having the time as she strutted down the carpet with her daughter and son-in-law.
She opted for a stylish green gown and shawl for the movie premiere.
It's easy to see where Amal gets her good looks from.
Despite having two new babies to look after, Clooney has proven that she's a woman who can do it all.
Just last month she attended a United Nations Security Council meeting, in addition to regularly making an appearance at other high-profile red carpet events with her husband.
What do you think of Amal's dress? What is your go-to clothing item for Summer?