Celebrity Couple underfire for "sexist" TV Ad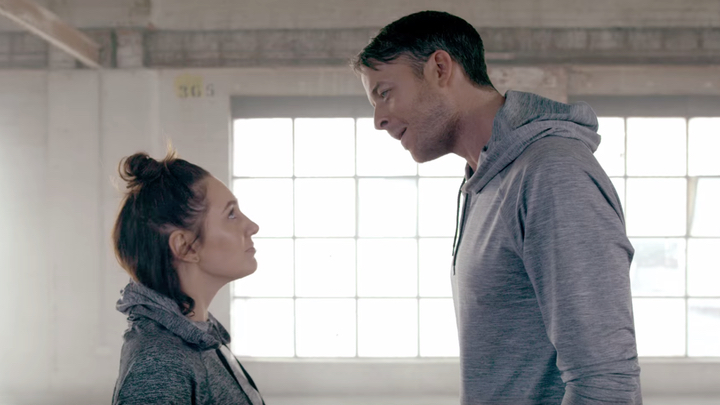 When you see the ad "Bring it on" for the clothing brand Bonds it seems harmless enough but it has left many angry. The ad features comedian Hamish Blake and CEO of Go-To Skin Care Zoe Foster Blake playfully challenge each other in a workout competition. The husband and wife never take anything too seriously as they compete in rope skipping, pull ups, and beating up a punching bag.
There is one shot however that has many up in arms. In one scene Hamish is showing that he is better on the pull-up bar so Zoe pulls his shorts down and gives him a playful smack on the bottom. This upset some to lodge formal complaints with the Australian Advertising Standard Board.
One complaint stated, "The ad clearly objectifies men and shows how they are sexual objects to the viewers; is this message what we want children and other viewers to think?" Another complaint said, "I feel this is derogatory towards men, also promotes putting down another person".
Ad. Article continues below.
The complaints continued including one that stated "We are constantly being told to respect women, but this ad does not show anyone being respectful. Surely we want to promote mutually respectful behaviour to other people, not this sexist attitude." While another complaint from a director of a child care centre claimed that the ad directly affected their kids stating "This ad has had an impact on the behaviour of a few children at the centre who now feel it is okay to pull their peers' pants down".
Bonds was quick to point out in the case that the advertisement only played during adult programming so the exposure to the ad is at the discretion of the parents. In a statement released by the Advertising Standards Board dismissed the complaints stating "During the various activities the couple are seen as sharing power, presented as equals and playful in their interactions together".
As for the "offending" bottom smacking? "The Board considered this was very playful and in the overall context of a friendly spar, was not of concern, and there was nothing in the man's response to cause concern."
Are people getting upset over nothing? Do you think the ad is offending? Do you think that the child care worker forgot that "dacking" someone's pants has been around almost as long as pants?