Carrie Fisher suffers heart attack on flight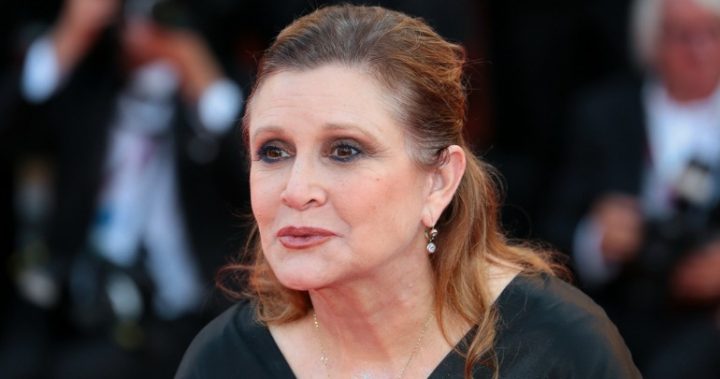 Update 2:40pm AEST: Carrie Fisher's brother has confirmed she is in a critical condition in the ICU after suffering cardiac arrest on a flight earlier today.
He disputed earlier reports from some media outlets that she was in a stable condition.
"It's not fair to say 'stable'. I am not saying she is fine, or not fine," he said.
"She is in the ICU."
Update 8:55am AEST: Reports now say paramedics worked on Carrie for 15 minutes after the plane landed before they were able to get a pulse. She is currently at UCLA Medical Center on a ventilator.
Ad. Article continues below.
Earlier: In breaking news this morning, actress Carrie Fisher has been rushed to hospital after suffering a heart attack while on a fight from London to Los Angeles.
Carrie reportedly went into cardiac arrest mid-flight, with fellow passengers forced to administer CPR in the air after she was found to be unresponsive.
Reports are saying it happened just 15 minutes before the plane landed, with Carrie taken to the emergency department in an ambulance from the tarmac.
According to TMZ, flight attendants issued a call out for help from anyone with medical expertise when they realised what was happening.
A paramedic on the flight rushed to her seat and started CPR.
Ad. Article continues below.
Actors Brad Gage and Anna Akana were seated in front of Carrie on the flight and said they are in shock at what happened.
"Don't know how else to process this but Carrie Fisher stopped breathing on the flight home. Hope she's gonna be OK," Anna wrote on social media.
"I'm in complete shock. @AnnaAkana and I sat in front of Carrie Fisher on our flight from London and she was just taken off the plane by EMTs," Brad said.

Carrie is currently promoting her book and was said to be returning to LA after attending a number of events in London.
Ad. Article continues below.
Fans around the world have taken to social media to send their wishes to the star and pray for a happy outcome.
Carrie's mother, actress Debbie Reynolds, lives in Las Vegas and is believed to be rushing to her daughter's side.
As this is a developing story, SAS will continue to update it.
Are you a fan of Carrie Fisher? Do you have a message of support for her?