Capturing 50 years of marital bliss in one heartwarming moment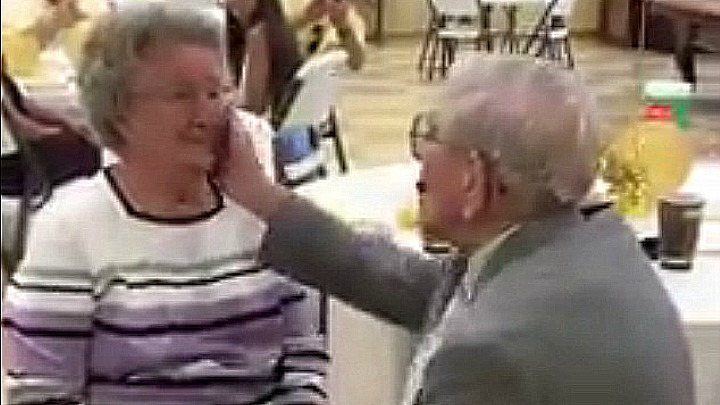 Some may think young love is the best stage of a relationship but a golden couple has proved otherwise.
While celebrating their golden wedding anniversary last week, a 92-year-old Oklahoma man got down on his knees to sing to the love of his life. Harvey Wosika serenaded his 90-year-old wife, Mildred with his Bing Crosby's "Let Me Call You Sweetheart" complete with his own lyrics.
The pair were married 50 years ago on August 5, 1966.
Before he sang to Mildred, he ensured he captured the moment, and our hearts, forever by asking his daughter to record a video of them. Their granddaughter, Lisa Epperly, posted this video (scroll down to see it) to her Facebook page, getting over 12,000 views.
Ms Epperly said everyone cried and her grandmother exclaimed "He is just full of surprises!"
Ad. Article continues below.
Harvey, 92, and Mildred, 90, have 11 kids, 35 grandchildren, 29 great-grandchildren and three great-great-grandchildren.
There wasn't a dry eye in the place', she told Tulsa television station KTUL . 'This is what love looks like.'
Harvey is a veteran of the United States Marine Corps. He enlisted in the military at age 17 just after the Japanese attack on Pearl Harbor and fought in the Pacific theater. He later joined the air force and retired after 20 years in the service.
While Harvey was away in the military, his wife was at home caring for their family.
Ms Epperly said her grandmother's secret to a long, happy marriage is love and understanding. Her grandfather's? Always being able to say "yes, honey."
See the lovely video below:

Isn't that wonderful? Share your thoughts below.