Hockey player sparks big debate after ripping off silver medal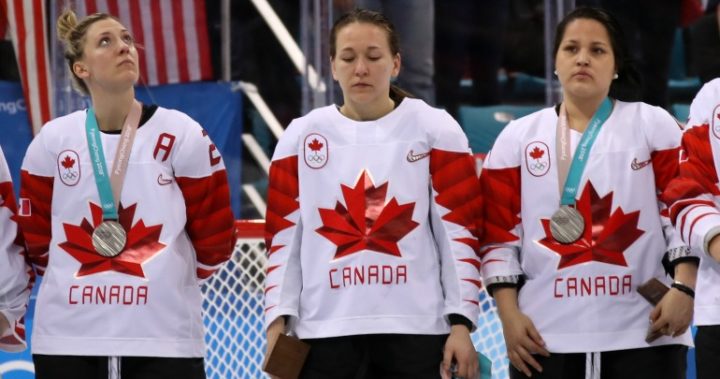 Most can only imagine the amount of pressure the athletes at the Winter Olympics must feel as they battle it out for top spot against their fellow Olympians. For one Canadian hockey player, though, desire to win seems to have overridden the famous Olympic spirit of  spirit of "friendship, solidarity and fair play".
Canadian women's hockey star Jocelyne Larocque was so disappointed with her silver medal after the Canadian team was beaten by Team USA (3-2) in the women's hockey final on Thursday in Pyeongchang. This US team was ecstatic, winning their first gold medal in two decades. But after the devastating loss for the Canadians, one of the favourites in the competition, the camera panned to the Canadian team's faces as the silver medals were placed around their necks.
When it was Larocque's turn to receive her medal she yanked it straight off again, and was visibly upset as she left the ice, struggling to answer questions from the media as tears welled-up in her eyes.
Canada's Jocelyne Larocque took off her silver medal immediately after receiving it. #WinterOlympics https://t.co/wS6s9ulmoA pic.twitter.com/CcjiKOd58W

— NBC Olympics (@NBCOlympics) February 22, 2018
Ad. Article continues below.
The International Ice Hockey Federation quickly informed Larocque that she was legally obligated to wear the medal, but according to Canada's The Globe and Mail, it took the athlete more than half an hour before she agreed to put the gong back on. When she returned to answer more media questions, she was asked why she was wearing the medal now, and explained that a "man in a suit" told her to put it on and that it was "just hard".
"We were going for gold." she added. She also told reporters that she might be able to appreciate her team's achievement later on but "not at the moment".
People quickly took to Twitter to give their opinion on the issue. Some could understand where the Olympian was coming from, pointing out the years of sacrifice and will to win that it takes to make it to such an elite sporting level. But others thought Larocque's reaction was childish and unsporting.
As sports writer Kevin Williams wrote in the Chicago Tribune, with the trend in recent years for 'participation trophies', it's easy to forget that losing hurts when you've worked very hard to win. "We forget that sport is war because participation trophies and the like have inured us to the reality of athletic endeavor. Nobody loses. Thanks for coming, everyone," he noted.
"The Canadian women's hockey team worked hard. For four years. For that game, that moment … When at the end of all that, someone gives you the glittering symbol of your failure, what are you supposed to do?"
Ad. Article continues below.
Saw a Canadian player take her silver medal off IMMEDIATELY. I get that. This is such a bitter pill for a team that expects excellence.

— Ryan Schuiling (@RyanSchuiling) February 22, 2018
Man that one Canadian player took that silver medal off like she was allergic to it and I gotta be honest I might do the same if I lost in a freaking shootout

— Dan Lucero (@danluceroshow) February 22, 2018
Anyone else see that Canadian player take off her silver medal as soon as she received it? Childish and ungrateful. Your country is proud of your silver medal you should be too 🙁 #USAvsCAN

— Kristen Rose (@kristenrowz) February 22, 2018
Ad. Article continues below.
Canadian hockey fans out there If I was Canadian I would be proud 2 have her representing my country. She was obviously raised to be a winner and not be happy with 2nd place. This is what competition is all about. You play to win not just compete. #JocelyneLarocque @HockeyCanada

— Chris B (@StarsPatriots) February 22, 2018
What do you think? Do you understand how she is feeling or do you think her attitude was unsportsmanlike?
Read More: Facebook changes are coming – what it means for you, and for Starts at 60
Ad. Article continues below.
With Facebook removing news sites from your feeds we ask that you sign up for Starts at 60's emailers here. And to keep us on your wall, join some of our new Facebook groups and clubs:

News Junkies Club – Australia
News Junkies Club – USA 

See news on the change and links to all our other clubs and groups here.