Canada can get this right? Why can't we?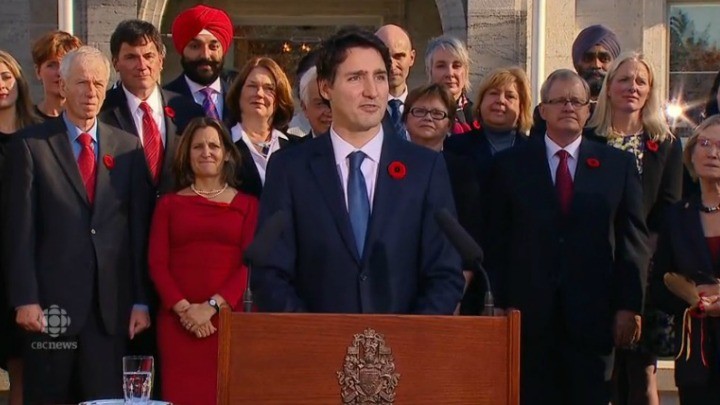 Take a look at the picture below. You probably don't recognise anyone, but it's Canada's new cabinet, as appointed by the new Prime Minister Justin Trudeau.
What do you notice?
Asked why he went with gender parity in his cabinet, Trudeau says "Because it's 2015" https://t.co/QWEKJjPR5i pic.twitter.com/eF7YpMYxvZ

— CBC News (@CBCNews) November 4, 2015
That's right, it's full of women! Well, to be precise, half of the 30 members are female. Mr Trudeau came good on his election promise of an equal cabinet and sure enough, there are 15 men and 15 women, plus Mr Trudeau running the country.
Ad. Article continues below.
Cabinet minister Sheila Copps said, "Gender parity in the national cabinet is huge. It sends a great message to our daughters and sons."
Of course, the decision has been met with criticism, with some commentators saying that choosing cabinet ministers to meet a "quota" means you're not putting the best man, sorry, person in the job. However, the each of the women, along with the men, come with impressive qualifications and experience behind them.
When asked why he felt it was so important to build a cabinet that was half female, Mr Trudeau replied, "Because it's 2015," and instantly earned the love and respect of half the population of the world.
While our own Prime Minister has made headway on getting the gender balance right in his cabinet, there's still a fair way to go. There are currently nine female ministers out of the 21 members.
Would you like to see Australia invite more women into the top jobs of politics? Do we need a prime minister like Trudeau?