Can there ever be room for racism anymore?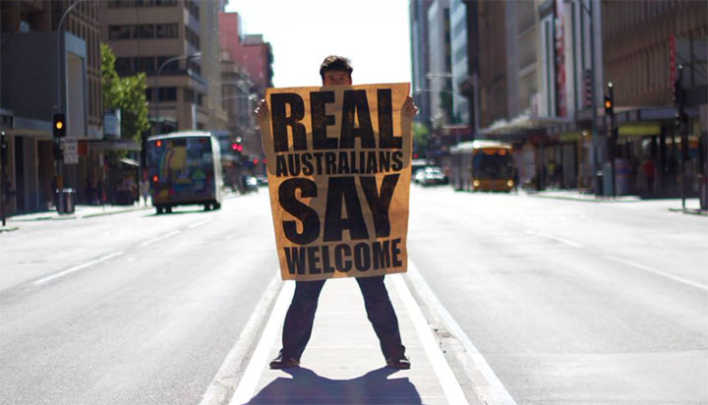 Reclaim Australia rallies that were said to have been cancelled earlier today have gone ahead in each of the east coast capitals in Australia in a stance against sharia law, halal tax and Islamisation of Australia and standing up against them in every city has been a group placarding "No room for Racism" in Australia.  The rallies have been violent in some cities, and police have had to bring in special resourcing to manage the issues.
Today,  one has to ask if  there can ever be room for racism in our country of this ilk anymore?   Lets talk today about the important tightrope we are walking between extremism and tolerance  today.
According to news reports, hundreds of anti-Islam protesters have clashed with counter-demonstrators some of whom were carrying signs that read, "No room for racism".  It is the ultimate battle in a changing Australia.  Can we stop and embrace the change for the better or do we have to fight it out on the streets?
According to The Guardian, Martin Place was at the epicentre, with anti racist and anti Islam protestors being separated by a wall of police, centred right outside the Lindt cafe which has just reopened after the siege earlier this year.
Bystanders spoke of the ill-informed nature of the Reclaim Australia Protesters, who claim Sharia Law to be a real risk in our country, when it clearly is not.
Ad. Article continues below.
The Guardian wrote today on this subject.
"Many of the flag-waving crowd, numbering in the hundreds, chanted "Aussie, Aussie, Aussie – Oi, Oi, Oi" and were carrying home-made banners denouncing sharia law.
But it was a proposition those at the other end of the plaza labelled absurd. "There is no possibility of sharia law in Australia, that is absolutely ridiculous," Tony Iltis said.
 How do you feel about the Reclaim Australia rallies and whether our country really can encourage this kind of racism in the multicultural environment we have built with relative success over the last 15 years.  
Ad. Article continues below.
Anti-Islam and anti-racism protesters clash across nation http://t.co/uQ8Otutuaw #relcaimaustralia #noroomforracism pic.twitter.com/GfXO3qyyjk

— The Courier-Mail (@couriermail) April 4, 2015
Reclaim Australia and opposing Socialist Party rallies held around the country over tolerance and extremism #QandA http://t.co/BbYAQycX7B — ABC Q&A (@QandA) April 4, 2015
Reclaim Australia rallies open some deep divisions about racial tolerance.At times things were very tense #9NEWS 6pm pic.twitter.com/9hhVgF5Y4P

— Darren Curtis (@DarrenCurtis9) April 4, 2015
Ad. Article continues below.
If we are going to "reclaim Australia" let's reclaim its compassion, humanity, and compliance with international law.

— Yvette Vignando (@yvettevignando) April 4, 2015

images sourced from Twitter only.