Cameron McEvoy shows what real sportsmanship looks like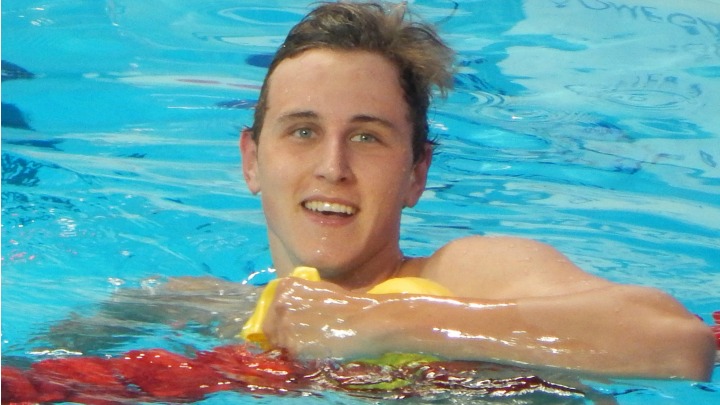 Yesterday, Australian clapped and cheered for 18-year-old Kyle Chalmers has he swam to gold medal glory in the 100m freestyle race.
But only a few lanes over, fellow Aussie Cameron McEvoy, the favourite to win the race, was left looking at his 7th place result and wondering what on earth had happened.
It's enough to send any competitive athlete into a downward spiral, but 22-year-old Cameron has taken a different approach and in the process has shown the world what true sportsmanship looks like.
Cam was quick to swim over winner and his friend and teammate Kyle and give him a big hug of congratulations.
Ad. Article continues below.
When they climbed out of the pool together, Cameron raised Kyle's arm in the air in victory as the crowd cheered for his mate.
Seconds later he was being hounded by journalists on the pooldeck asking him what went wrong and why he finished the race so badly.
"It is baffling to me, particularly with my analytical mind," he said. "Hopefully, I can get back and pinpoint what went wrong. Right now, it's hard to pinpoint anything specifically."
Then he added this: "That's all I can say about myself. The rest of Australia can get excited about an 18-year-old's start to his career. He's an Olympic champion at 18 … Kyle's success and happiness, I can feel that. I'm riding the wave that he's won."
Ad. Article continues below.
Later, when asked if it was illness that caused him to swim the slower time in the race, Cameron refused to make excuses and said he was focussed on swimming his best in the next race.
"Well there's … (pauses for four seconds) … me and Rich (coach Richard Scarce) are going to sit down and pinpoint any little areas that might have had some effect," he said.
"But I don't want to stand here being the guy rolling off excuses it was this or that.
"Not only because that's not the type of person I am but I also don't want to take anything away from what Kyle has achieved.
"I think this is his moment and he should really soak it up and he deserves all the recognition he can get."
Ad. Article continues below.
He also said he was overwhelmed by the support he'd received in the face of his loss.
"I've spoken to a lot of people about it, the amount of support I've received not only from friends and family but the general public around the world and also my competitors too I was really surprised the amount of competitors who came up to me and spoke to me about it and were supporting me about it," he said.
Now he's got his sights set on the 50m freestyle and the backing of a whole country that is proud to call him our own.
Join us in wishing Cameron good luck in the rest of his Olympic journey and commending him on such a great attitude!
Do you think athletes like Cameron are the role models our country needs? Is this what the true spirit of sportsmanship is about?