Calls to ban this innocent Christmas tradition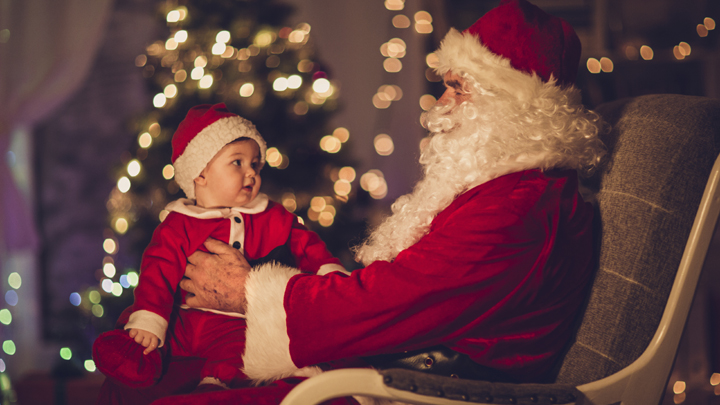 Over the weekend, Queensland child protection advocate Hetty Johnston made a call to ban children from sitting on Santa's lap. There has since been an outcry from the public, with some labelling the Bravehearts ambassador as anti-Santa and far too politically correct.
For generations, children have been sitting on Santa's lap to tell him what they want for Christmas, so the suggestion that this was no longer appropriate was met with controversy, naturally.
Hetty has since come out and said that her call for shopping centres to protect children by directing children to stand next to Santa was not anti-Santa and that she is supportive of parents.
On her Bravehearts Facebook page, Hetty said, "Bravehearts is not anti-Santa or against kids sitting on Santa's knee if they want to…However our position is that kids shouldn't have to do something against their will if they feel uncomfortable or unsure about a situation".
But is Hetty treating this as something bigger than it is? She essentially likens sitting on Santa's lap to that of a stranger who has not gone through strict police checks, which all Santas in Australia have. According to Hetty, "This is not about taking the fun out of Christmas, this about ensuring that children do not receive mixed message around their rights to say 'no' and to feel safe". So is she backtracking or does she really have a point? Or is this an over-the-top politically correct argument?
Ad. Article continues below.
It feels as if this is in the same playing field as the recent calls to ban gender-specific toys and books from shelves – a playing field that is filled with people who lobby and rally for every little thing, which, in the scheme of things, are not that crucial. We know that Hetty Johnston comes from a great place and she has a huge heart and empathy for child victims of sexual abuse. She has a tragic personal story behind her campaigning but does that mean that we need to make Santa's lap another thing for children to be cautious of? Or instead should we just tell them to do what feels most comfortable for them? Is alerting them to a potential threat really how we want children to be raised – thinking everyone at every turn is a threat?
Santa represents something unique to young children – he loves children and would never hurt them; his lap is safe. Yes, we as a society do associate older men (sadly) with child abuse, however it is unfair to tarnish them all with the same brush and that is essentially what lies at the crux of the call to ban sitting on Santa's lap, let's face it.
Teaching children to trust is important but where do we draw the line? Which side of the argument about Santa's lap is correct?