Bronwyn Bishop has something to say about Sussan Ley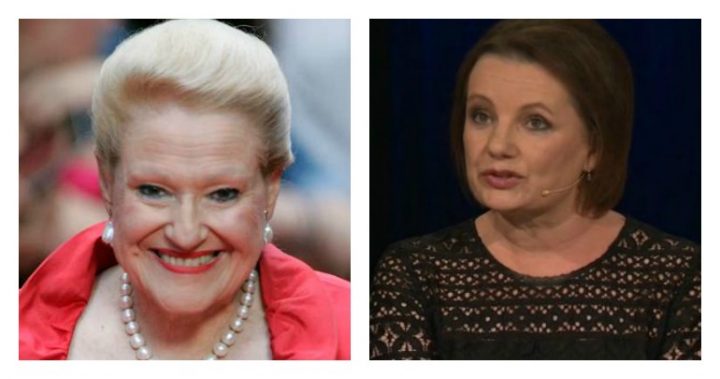 Taxpayers still haven't forgotten about Bronwyn Bishop's infamous helicopter ride and subsequent downfall and it looks like Bronwyn hasn't let go of it either.
Following Health Minister Sussan Ley's decision to step aside this morning over questions around how she used taxpayer funded money, Ms Bishop has jumped to her defence and blamed socialists and alcoholics for scrutinising her.
Ms Ley was under pressure to resign after it was revealed she bought a luxury apartment on the Gold Coast while on a work trip and used taxpayer money for flights to fly to the beach-side city to celebrate New Year's Eve two years in a row.
In defending her fellow Liberal, Ms Bishop unleashed an extraordinary attack on her critics, saying she didn't know exactly what had happened, "but I do know that there are socialists out there who want to attack free enterprise and anyone who sticks up for it. And I know that socialists, like alcoholics, will blame anyone but themselves. And whereas alcoholics can damage their own families, socialists can destroy the whole country."
She went on to tell Sky News the investigation into Ms Ley should be able to happen without her "being attacked by people behaving like a pack of dogs".
Ad. Article continues below.
"But let's understand that there are people out there who wish to destroy free enterprise and those who stick up for it. Whereas socialism, which is always on the march, if you expose it, it can be defeated. And be under no illusions, whenever you see some of these arguments come to the fore, there will always be an ideological component."
"But what's this got to do with socialism?" she was asked by host Laura Jayes.
"A lot, a lot. Socialists will always blame anyone but themselves."
Later, she attacked Labor for sending out Penny Wong to comment on the incident.
"I found it pretty, pretty disgusting to see the Labor sending out a woman to attack another woman this morning. I don't think that's a good look either," Ms Bishop said.
Ad. Article continues below.
"And to be blunt, if you look at the socialist side of the Labor Party, you look at the people in there and the blokes who have…done many more things like that and, quite frankly, nothing happens. So I think there's one rule for some and a different rule for others."
Her words have left many people scratching their heads, but others say she makes a lot of sense and that Ms Ley is being treated unfairly.
Do you agree with Bronwyn Bishop here? Or is she way off track with this one?