British Olympian slammed for refusing to shake gold-winning team mate's hands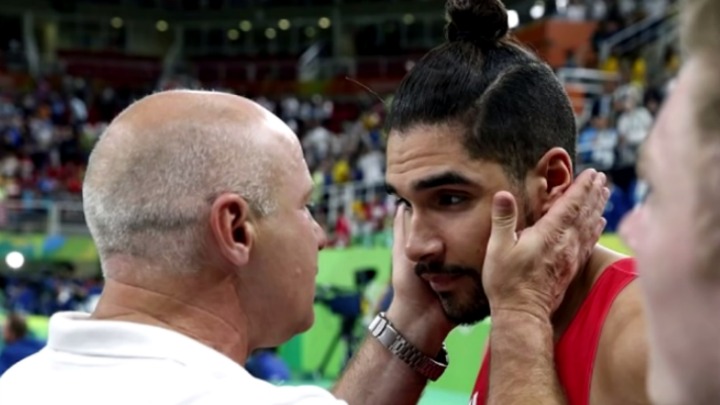 Whilst we've seen excellent camaraderie and sportsmanship between our Aussie athletes – Cameron McEvoy swimming across the pool to congratulate gold-winning team mate Kyle Chalmers – the same can't be said about this next athlete.
British gymnast Louis Smith was blasted on social media when he appeared to refuse to shake teammate Max Whitlock's who won gold which knocked him down to silver.
Smith even cried on the podium and appeared to say "that's b*******".
While he evaded the handshake of his mate, he hugged third-placed American Alexander Naddour which sparked a furious social media backlash.
Well done lads, you did Great Britain proud! @louissmith1989 @maxwhitlock1 #MaxWhitlock #LouisSmith pic.twitter.com/GrkGAV8OIg

— Lizzie Kenyon (@lizzie__Grace) August 14, 2016
Ad. Article continues below.
Fans accused him of not being "gracious" in defeat and for failing to congratulate Whitlock who is actually his team mate who picked up gold for their country.
However, some fans did defend Smith and praised him for taking the competition seriously.
#LouisSmith his emotion shows just how much the competition means to him. All you haters should listen to how proud he is of #MaxWhitlock

— Karen Alcock (@Kazwags) August 14, 2016
Smith, who has won two silvers and a bronze across three different Olympics, "There many different emotions. I would have liked to get a gold," he said to the BBC.
"I've been in the sport for two decades now, I'm 27, I don't know if this is my last Olympics."
Ad. Article continues below.
However he did say that he was pleased, "To have done that routine the way I was feeling, I am very happy."
"Three different Olympics – three different medals – well, two silvers, one bronze – I've still got it."
Did he go to far or was it fair for him to feel that way?