Britain's top diplomat walks out on interview after being asked to name world leaders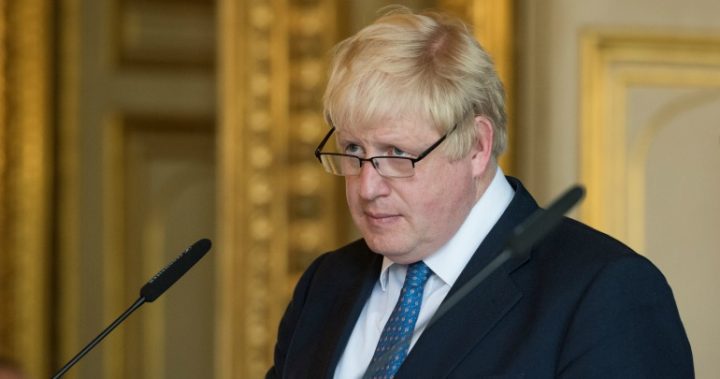 He's the United Kingdom's foreign secretary, but Boris Johnson was left red during an interview with Sky News when asked to name South Korea's president during some sort of 'pub quiz' about world leaders and he didn't like it.
Speaking with presenter Dermot Murnaghan, Johnson — also one of the men who helped spearhead Brexit — was initially happy to take part in the interview and successfully named the French foreign minister Jean-Marc Ayrault.
Yet, his mood visibly changed when asked about South Korea's president and he let the Sky News presenter have it.
"We are not getting into a pub quiz about the leaders around the world and I am going to, with great respect, invite you out to the pub Dermot so that we can take these conversations further," Johnson said.
"I have a terrible feeling that if I keep answering you, you'll keep coming back with more. Have a good morning, see you," he said before storming out of the live broadcast.
Ad. Article continues below.
.@DermotMurnaghan asked @BorisJohnson a couple of pub quiz questions – here's how he got on #Murnaghan https://t.co/PrhVExfcKE

— Murnaghan (@SkyMurnaghan) December 4, 2016
It seems challenging political figures on their knowledge of foreign leaders has become something of a sport for the journalist at Sky News. Earlier this year, Murnaghan quizzed Emily Thornberry (the top opposition politician dealing with foreign affairs) on the name of the French minister to which she replied, "Don't start pub quizzing me Dermot."
While Gary Johnson, the Liberatarian Party's candidate in the United States presidential election, made an unfortunate gaffe when he responded with "What is Aleppo?" when asked about the city at the centre of fighting in Syria.
Just in case you were wondering, the South Korean president is Park Geun-hye, though there have been calls to oust her.
Was Boris Johnson's reaction justified? Was the Sky News journalist being disrespectful in asking such questions? Should political figures know who their counterparts are in other countries?