Breaking: Tsunami warning issued after Solomon Island earthquake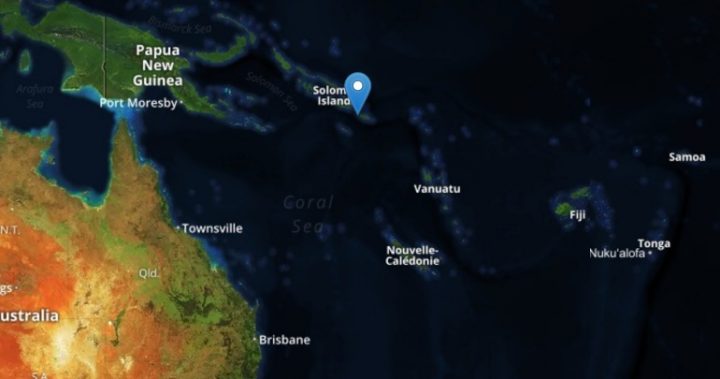 A massive 7.8 earthquake has rocked the Solomon Islands and prompted a tsunami warning as far reaching as New Zealand.
Islander nations across the Pacific have been warned to take higher ground with huge waves expected to roll across the coast lines.
"Hazardous tsunami waves from this earthquake are possible within the next three hours along some coasts of Solomon Islands, Vanuatu, Papua New Guinea, Nauru, New Caledonia, Tuvalu and Kosrae," the US-based Pacific Tsunami Warning Centre (PTWC) said.
New Zealand is said to still be assessing the situation and may also issue the tsunami warning soon. However, it has already told residents to stay off the beach and out of the water.
Prelim M7.7 earthquake Solomon Islands Dec-8 17:38 UTC, updates https://t.co/bLsPOHbyLK

— USGS Big Quakes (@USGSBigQuakes) December 8, 2016
Ad. Article continues below.
The quake was one of the biggest in a line of tremors felt around the world lately. It hit just after 4:30am AEDT at a depth of around 48 kilometres.
With the Pacific being such a popular holiday and cruising destination for so many Australians, people are being urged to take extra care and rethink any upcoming plans they may have to visit the area until an all clear is given.
That was so scary. Hope everyone is okay #solomonislands

— Jay Bartlett (@Hatanga) December 8, 2016
Ad. Article continues below.
Tsunami warning issued for the next 3 hours #Solomonislands

— Jay Bartlett (@Hatanga) December 8, 2016
Loti Yates from the National Disaster Management Office in the Solomon Island capital Honiara told the ABC there was already reports of damage.
"Already there [is] information coming in from Makira as well as parts of Solomon Islands not within the tsunami threat area, [that] confirm some dwellings, houses etc have been collapsed due to the shake," he said.
"[One community] that has been in touch with us said they are calling from up the hills, which is good, they activated their own emergency plans and know what to do, so we are happy.
"The warning has been issued … at this stage, communication difficulties are hampering our ability to get clear information."
Have you visited the Pacific Islands? Have you ever felt an earthquake?