Breaking: Question time in parliament suspended by bizarre protest method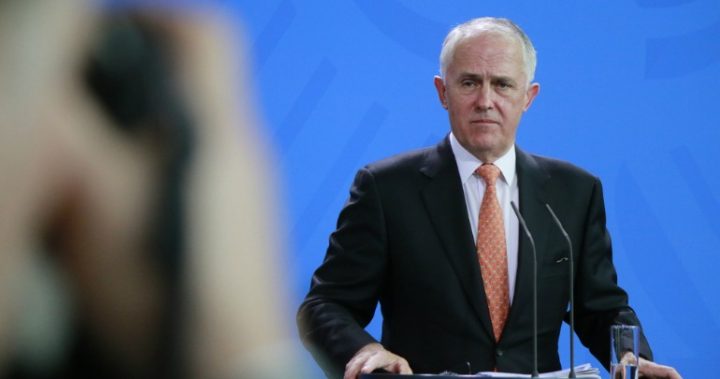 Question Time in the House of Representatives has been temporarily suspended after a co-ordinated protest against the government's offshore detention regime was held in the public gallery. The large group of protesters shouted pro-refugee slogans and criticised the government's detention policies and went as far as superglueing their hands to the seats.
The daily Question Time began at 2pm. After an opening question from Labor to Prime Minister Malcolm Turnbull, Liberal MP Melissa Price took the floor to begin a question to the PM about "the government's achievements" in economic reform. At that point, shouts erupted from the public gallery overlooking the floor of the House of Representatives, reports Huffington Post.
Amazing picture by @mearesy of the QT protest. pic.twitter.com/EAKGNy16LV

— Stephanie Peatling (@srpeatling) November 30, 2016
Prime Minister Malcolm Turnbull and Opposition leader Bill Shorten sat in the House of Representatives watching the protestors in the gallery above, as they shouted slogans at MPs.
Ad. Article continues below.
"You are all complicit in the murder, rape, torture and child abuse of refugees," the chants began, mentioning Manus Island, Nauru and Christmas Island.
"You shame us on the international stage. You have failed every single person seeking asylum. Your policies are killing innocent people. Your policies are separating families. You use our money to abuse refugees."
"The madness needs to stop."
Security officers struggled to contain or remove them, with the protesters claiming they had superglued their hands to the rails, reports SBS.
Protesters have superglued their hands to the railing in public gallery

— David Lipson (@davidlipson) November 30, 2016
Ad. Article continues below.
"We are here today because your policies are breaking our hearts because every day on Manus and Christmas Island is another day in hell," one of them said.
Those in the chamber estimated the group to be at around 30 people. Parliament House security arrived to deal with the protest, but unable to shift the large group, the Australian Federal Police soon turned up.
Speaker of the House, Tony Smith, waited around three minutes as the chants continued unabated. Turnbull and Labor leader Bill Shorten waited, unamused, as the protest continued. Eventually, Smith called for Question Time to be halted until the group could be removed.
A group called the Whistleblowers, Activists and Citizens Alliance (WACA) took to Twitter to claim responsibility for the protest.
Ad. Article continues below.
We've shut down Parliament. #closethecamps #bringthemhere pic.twitter.com/o0yDXaE8mg

— WACA (@akaWACA) November 30, 2016
The story has erupted on the internet and people are divided on the Question Time incident.
While some called the protest and act of bravery, some said that it did not achieve anything positive.
Ad. Article continues below.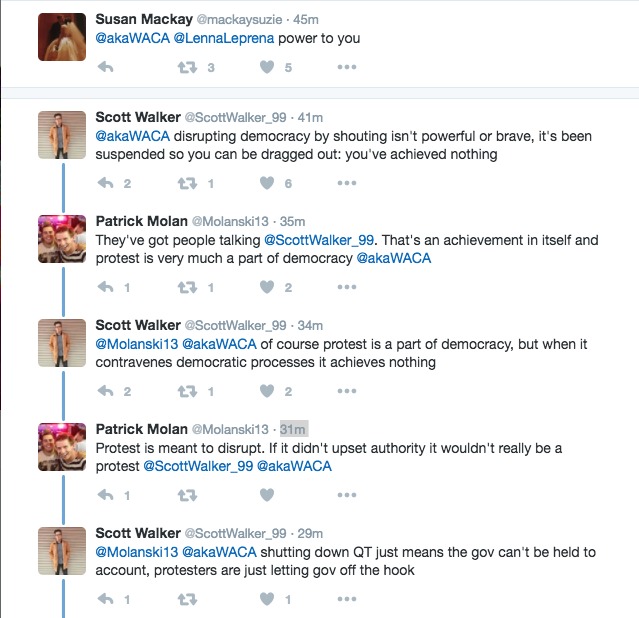 The protest has sparked an intense debate on Twitter. Source:
Twitter.
Are you shocked at the protest methods? Do you think it was fair for the Question Time to be halted that way?