Breaking: Protestors breach security at Parliament House again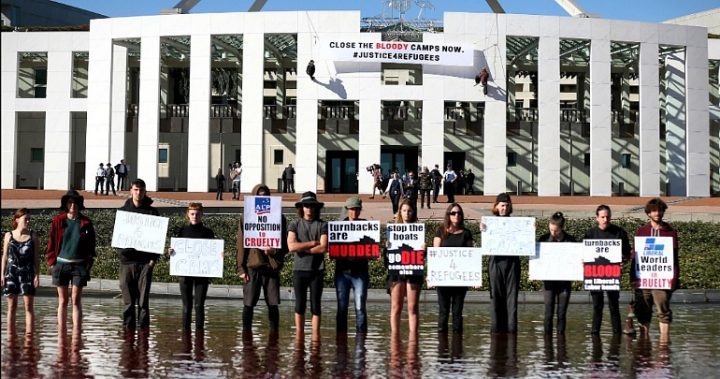 Protestors have once again breached security at Parliament House in Canberra this morning, scaling the building to unfurl a large banner and filling the water feature with red dye.
The group is carrying protest signs reading "Turnbacks are murder" and "No opposition to cruelty" – a pointed reference to both parties.
Federal police now positioned behind protestors @2GBNews #auspol pic.twitter.com/2NiJ1ceQ2C

— Stephanie Borys (@StephieBorys) November 30, 2016
It is not yet known how they carried out the operation without being stopped by police or security on site, with many saying it shows a huge flaw in parliament's security system.
Ad. Article continues below.
Yesterday, the group was dragged kicking and screaming from the gallery after supergluing their hands to the railing and shouting over politicians during question time.
Pro-refugee protestors at Parliament House pic.twitter.com/ZLHg1QylXL

— ellinghausen (@ellinghausen) November 30, 2016
They group is protesting the governments asylum seeker boat turnback policy and detention on Nauru and Manus Island.
They have also taken aim at the Labor Party, claiming they are not doing enough to oppose the policies.
Ad. Article continues below.
Protestors are back. This time out (and on) the front of Parliament House. #auspol @SBSNews pic.twitter.com/KKZU8Q8TKT

— David Sharaz (@DavidSharaz) November 30, 2016
The group are from Whistleblowers, Activists and Citizens Alliance and have been using social media this morning, saying: "Australia's asylum seeker policy is killing innocent people. All of parliament is complicit."
The group says they've brought water bottles and sunscreen and are prepared to sit it out until forcibly removed.
Do you support the protestors cause? Or do you think they're going about it the wrong way?