Live updates: Polls close in key states for US election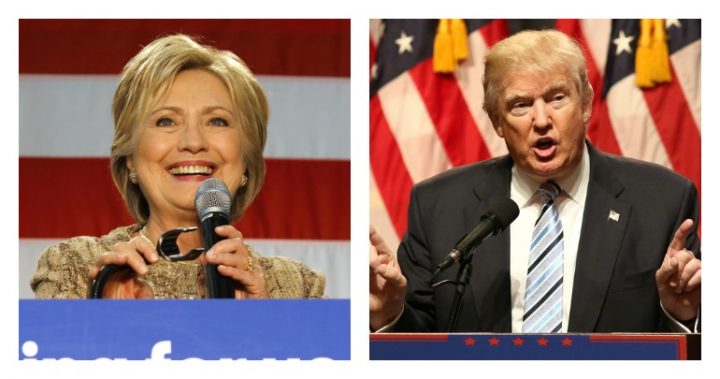 4:57pm UPDATE: It's all over, folks. The ABC has called the election in favour of Donald Trump. With Pennsylvania in the bag, he will become the 45th president of the United States.
2:37pm UPDATE: More results are coming in and it is looking increasingly likely that Donald Trump will the next president of the United States.
Trump has now taken the key states of Florida and Ohio, giving him a big advantage in the final count. Right now numbers stand at 197 Clinton to 187 Trump, but with projections in place most major American media outlets are saying Trump will bring home the win.
Clinton has secured California, traditionally a Republican state, and Virginia, but those states alone are not enough when it comes to America's complicated voting system.
The New York Times has stated there is a 95% chance of Trump winning.
Ad. Article continues below.
Photos from around the internet are showing jubilant scenes from Trump supporters, while Clinton's fans watch on anxiously.
Supporters of Hillary Clinton watch #ElectionNight coverage in the Capitol Hill neighborhood of Seattle, Washington pic.twitter.com/YG9yHPKXgn

— AFP news agency (@AFP) November 9, 2016
Australia's leaders take in the news. Cool heads must prevail today. #USElection2016 pic.twitter.com/qk8dc873Ed

— Hamish Macdonald (@hamishNews) November 9, 2016
Ad. Article continues below.
Meanwhile, the Canadian immigration website has crashed as Americans flood to see how they can leave the country!
The Canadian Immigration website has crashed. Seriously. #ElectionNight pic.twitter.com/XXSfCorTd1

— Cause We're Canadian (@MadelnCanada) November 9, 2016
…………………………………………………………………………………………………………………………………………………
UPDATE: Latest results from the polls have put Donald Trump slightly ahead. The race is tightening by the minute with pollsters reacting in surprise by just how close the race it.
Ad. Article continues below.
North Carolina, a key state to win for both candidates, is currently too close to call with Clinton's camp saying it may take all night to count the votes there.
Florida is in a similar way with the lead continuously swinging between the two.
Trump has taken Texas, an important win for him, while Clinton has won her home state of New York.
Before the polls opened, the New York Times had Clinton at a 85% chance of winning. That number has now plummeted to 67%.
Photos are emerging from both camps, showing the candidates and their families looking tense.
Ad. Article continues below.
Watching the votes come in at HQ #election2016 #MAGA pic.twitter.com/0oixRl4RBj

— Ivanka Trump (@IvankaTrump) November 9, 2016
……………………………………………………………………………………………………………………………………………….
EARLIER: Polling stations are closing around America as record numbers of voters turn out to decide who will be the next leader of the United States. In breaking news there has also been a shooting at a polling station in California, with authorities confirming one person has been killed and three left injured.
The shooter is on the run with police in pursuit.
Ad. Article continues below.
Meanwhile, Hillary Clinton is currently ahead with 182 to Donald Trump's 94. The candidates need 270 to win the election and take the White House.
Results are too close to call in a number of the key electoral college states, with Ms Clinton leading by a small margin in both North Carolin and Florida. However pollsters are saying there is only a handful of votes in it.
Florida is traditionally a Republican state, so a win there would go a long way towards securing the presidency for her.
Both candidates are staying out of the public eye at the moment, but are using social media to create one last push. Mr Trump is using his Facebook page to announce which states he has won, while Ms Clinton is using hers to encourage people to put their vote in before it's too late.
Ad. Article continues below.
Starts at 60 will be updating this post with results throughout the day so be sure to check back in and share with your friends and family!
Who do you think will win?