BREAKING: New Zealand 7.1-magnitude earthquake triggers tsunami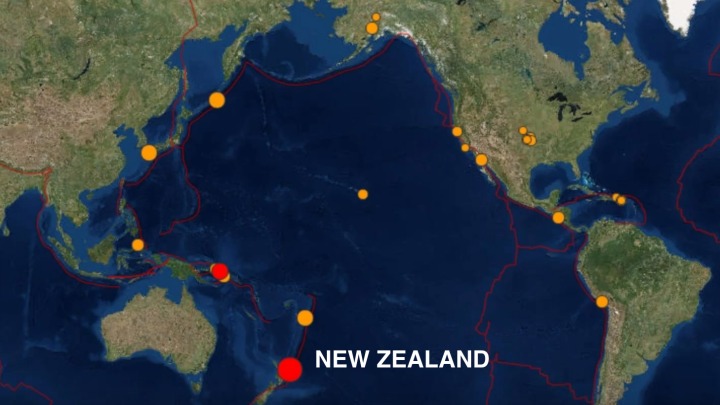 A powerful 7.1-magnitude earthquake struck off the east coast of the North Island in New Zealand and not long after a tsunami warning was issued, East Cape residents fled to higher ground after the shocks triggered tsunami activity along the coast in the region.
The quake at 4.37am struck northeast of Te Araroha at a depth of 55km.
East Cape resident Aomihi Cook said her community headed for the hills.
Starts at Sixty reader Jude Weller said, "I am in Napier, it was a very long, rolling earthquake, no damage here. I think we were waiting for a big bang, but it never eventuated. Tsunami warnings have been retracted, but we have been told to stay away from waterways."
Christine Johnson said, "Whakatane 04 :38am this morning house was rocking and rolling with the earthquake and kept going for about 30 secs plus. Lights were swinging about wildly. No damage to house or goods."
Ad. Article continues below.
The quake hit 167km northeast of Gisborne at 4.37am Friday local time at a depth of 55km. There were no immediate reports of damages or injuries.
The Gisborne District Council urged people along the coast to evacuate and head to higher ground.
According to Stuff.co.nz, a number of large aftershocks have also been felt, including a 5.6 jolt at 5.14am.
The NZ Ministry of Civil Defence and Emergency Management issued a tsunami warning for the east coast of the North Island, including Auckland, Waikato and the Bay of Plenty, as well as the for the Upper South Island.
More to come. Please check this live blog for updates.
Ad. Article continues below.
6.47am (AEST)
All tsunami warnings for coastal areas were lifted after 8am on Friday morning (NZ time). Civil Defence said based on available data the greatest tsunami threat had passed, however, strong currents and sea fluctuation levels were likely to continue through the morning.
7.25am (AEST)
CIVIL DEFENCE ADVICE
In the event of a large earthquake, Civil Defence advises:
1. Expect aftershocks and remember to drop, cover and hold.
2. Look after yourself and get first aid if necessary. Help others if you can.
3. Assess your home or workplace for damage. If the building appears unsafe get everyone out. Use the stairs, not an elevator and when outside, watch out for fallen power lines or broken gas lines. Stay out of damaged areas.
4. Look for and extinguish small fires if it is safe to do so. Fire is a significant hazard following earthquakes.
5. Listen to the radio for updated emergency information and instructions.
6. Do not overload phone lines with non-emergency calls.
7. Help people who require special assistance – infants, elderly people, those without transportation, families who may need additional help, people with disabilities and the people who care for them.
7.54am (AEST)
FIRST-HAND STORIES FROM Starts at 60 Readers:
Carol Smith said, "No one hurt, woke me up In the wee hours and we are 400 km south of the epicentre."
Catherine Mary said, "I am both west of Auckland City, I woke at 4.38am to a very loud rumble , my bed shook for what seemed minutes, a bit scary."
Liz Grant said, "We didn't feel it here in Ohauiti Tauranga, however a friend a few blocks away was shaken awake! Few paintings down and that sort of stuff but no reported injuries."
Do you know anyone who might have been affected?