Breaking: Joe Hockey says goodbye with dignity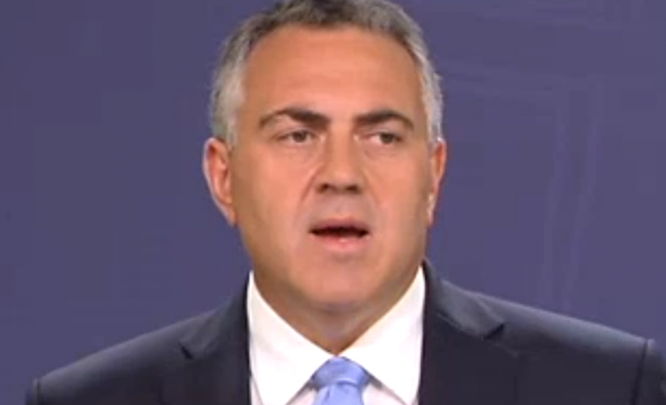 The former Treasurer Joe Hockey has given his farewell speech in parliament, taking a few shots at the government, paying tribute to his fallen hero, and providing painful detail about why he needs to choose family over country.
Read his speech and share your thoughts.
"I would like to begin by thanking the people of my electorate of North Sydney for giving me the honour, the opportunity and the privilege of representing them in this great chamber. We've walked a successful journey together and I appreciate the enormous effort many locals made in helping me along the way.
"In particular I want to thank all of you, the members of this great house and senators that have come along today. For the enormous effort you put in every single day to serve the Australian people.
"Most people leave this parliament as a result of defeat, death, disillusionment or disgrace. We all have to work harder to leave with dignity.
Ad. Article continues below.
Former Treasurer Joe Hockey receives standing ovation after delivering his valedictory speech #auspol pic.twitter.com/ASY8TbxTms

— Lukas Coch (@cochl) October 21, 2015
"There are plenty of Australians who are critical of the politicians that they've never met. Our jobs have become much more challenging over the years with the advent of a need-it-now culture. That's been backed by the unending and often unreasonable demands of social media. The 24-hour news cycle has changed politics forever but I'm not sure the system has kept pace with that change. It is now far more difficult to examine and debate policy issues in a measured and considered way.
"Of course, one of the things that sustains us all in this place is the friendships we make and I have mostly met very honourable people in this place. To all of my colleagues, thank you for making me laugh and on a couple of occasions making me cry. You've stirred me to great anger but equally we've all shared many laughs. Above all else, you've made me very proud to be an Australian.
"Ladies and gentlemen, if everyday Australians are to be their best then we, as community leaders, must be even better.
Ad. Article continues below.
"That's why the revolving door in Australian politics must be jammed shut. If we don't show enough respect to each other then how can we hope that the electorate will respect us?
"The stability of the Howard government has been replaced with rapid and unpredictable changes of government on both sides. That turnover has dramatically weakened the policy hand of whoever occupies the government benches in this chamber.
"Most public servants are very good but some, confused by the inconsistency of policy and the rapid change in the number of ministers, they will simply wait out a minister or a government when they are asked to implement very difficult decisions. In this parliament, the Senate has the capacity to turn every policy proposal into a bit of a mess, thus undermining public confidence in the process of government.
"Ultimately, this chamber can end up being responsible for its own undoing. We cannot make it normal to have four prime ministers and four treasurers in just four years. Leadership instability and ministerial turnover is the enemy of good public policy.
"It was a great honour to serve as a minister in a number of Howard government ministries. It was an even greater honour to serve as treasurer in the Abbott government. Tony Abbott, who sadly is overseas today, is one of the most selfless, hard-working and honourable people I have ever met.
Ad. Article continues below.
"Yes, at times we have clashed, I confess. For more than 30 years we've argued our differences on everything from the republic to budget savings, but I say directly to the Australian people that the real Tony Abbott is more of a good and decent man than you may know.
"Mr Speaker, the Abbott government was good at policy but struggled with politics. When faced with a choice, I would always prefer to do what was right than what was popular.
"I admit that we could have done more to win over third-party endorsements and to win over the Senate. And we could have done more to win over the Australian people. We tried to achieve a lot in a short period of time and whilst we were dealing with significant domestic policy challenges in health, welfare and education, we underestimated the massive time requirements associated with national security and chairing the G20.
"Nothing illustrated this better than the 2014 budget, where the government had more courage than the parliament. As my good mate, the outstanding minister for finance, Senator Mathias Cormann, will tell you, it is easier to spend money than to save money. Unfortunately, in modern politics it's far easier to demolish good policy proposals than to build and implement them.
"Mr Speaker, I grew up in a house full of integrity. There was no back door you could sneak out of with a temporary leave pass to be disloyal or dishonest for just a few days. Growing up in a small-business family, I learned that reward will come as a result of hard work and innovation. In particular, you should never, never, ever put your honesty or your integrity up for sale.
Ad. Article continues below.
"I was taught by the Jesuits that it's better to serve than be served, to be a man for others, and it would have been impossible for me to serve in this place without the support of my wife, Melissa, and our children.
"You know, last Monday was Iggy's sixth birthday and I've missed every single one of his birthdays. I won't miss another one.
"I challenge all and sundry to name a speech in the last 20 years that has influenced the national debate in the way that 'the end of the age of entitlement' speech did.
"I gave it in opposition to a group of just 40 people in London, quite a few Tory MPs, no media were present.
"Yet the speech had an impact in a number of different countries from opposition – it gave the Labor party, in government, a leave pass to start to wind back unfair welfare entitlements.
Ad. Article continues below.
"Mr Speaker, our taxation system needs reform for the 21st century economy, integrity is crucial for that and through our leadership of the G20 we hardened the resolve of major economies to address base erosion and profit shifting.
"Integrity is hugely important but the best way to get compliance is to have lower, simpler taxes. We abolished seven taxes and fixed 96 tax problems but reform had to go further and through a comprehensive review of the tax system.
"I endeavoured, and failed, to keep all options on the table.
"We must increase and over time broaden the GST, we must lower all income tax those people and companies are given more incentive to take risks and receive rewards.
"As a minimum, we should aim for a 40-20-20 rule. 40 per cent top personal tax rate at a much higher threshold, 20 per cent tax rate for most taxpayers and 20 per cent tax rate for businesses.
Ad. Article continues below.
"We should be wiser and more consistent on tax concessions to help pay for that, in particular tax concessions on superannuation should be carefully pared back.
"In that framework, negative gearing should be skewed towards new housing so that there is an incentive to add to the housing stock rather than an incentive to speculate on existing property and we should never ever forget small business.
"We should encourage Australians to be their best, to achieve what they can and to share the rewards as they choose. As a nation, as a parliament we must continue to be ambitious and bold.
"So I say to this House, as I say to my own children seated here in this chamber, it is far better to dream mighty things, to see glorious triumphs even though checkered by failure, than to be amongst those poor souls who neither suffer much nor enjoy much because they live in the great twilight that knows neither victory nor defeat."
What do you make of Joe Hockey's farewell speech? Which points do you agree or disagree with? Will he be remembered fondly?