Breaking: Eddie Obeid sentenced to five years in jail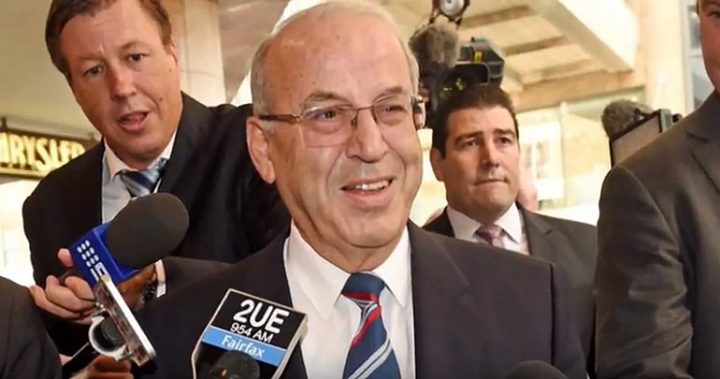 Former Labor minister Eddie Obeid has had his fate handed to him today, with a judge sentencing him to five years in jail.
Obeid was found guilty of misconduct in public office in June after it was revealed he had failed to disclose family's business interests in cafe leases at Sydney's Circular Quay, while he was lobbying to a senior bureaucrat about the rights of waterfront retailers in 2007 when he was a member of the NSW Upper House.
Today, Supreme Court Justice Robert Beech-Jones didn't hold back when handing down his sentence, delivering Obeid a five year jail term with a minimum three years non-parole period behind bars.
While Obeid's lawyers had tried to argue that his crime was minimal in the grand scheme of things, the judge was having none of it.
"Mr Obeid will you please stand up:" Judge sentences disgraced fmr NSW Labor minister Eddie #Obeid to minimum of 3 yrs in prison. @abcnews pic.twitter.com/1YJX7ZTYvE

— Nick Dole (@NicholasDole) December 15, 2016
Ad. Article continues below.
"The more senior the public official, the greater the level of public trust," he said.
"Corruption by elected officials consumes democracies."
He said Obeid had abused public trust "to advance the financial interests of himself or at least his family".
"He intentionally abused the public trust proposed in him as a member of the legislative council of NSW.
Ad. Article continues below.
"[The lobbying] was not undertaken because [Obeid] in any way believed it was in the interests of the public or the electorate."
The sentence has left many people gobsmacked as Obeid was once such a prominent figure in politics.
While some have already called the sentence 'too harsh', others are saying it should serve as warning to other pollies out there who are treading a fine line as they put their own interests in conflict with the public's.
Pollies abusing their positions of power and spending taxpayer money on their benefits has been a big issue over the past few years, with many calling for them to be held accountable for 'doing the dodgy' on voters.
How do you feel about this sentence? Do you think politicians need to be reigned in on some issues?