Breaking: Earthquake strikes New Zealand again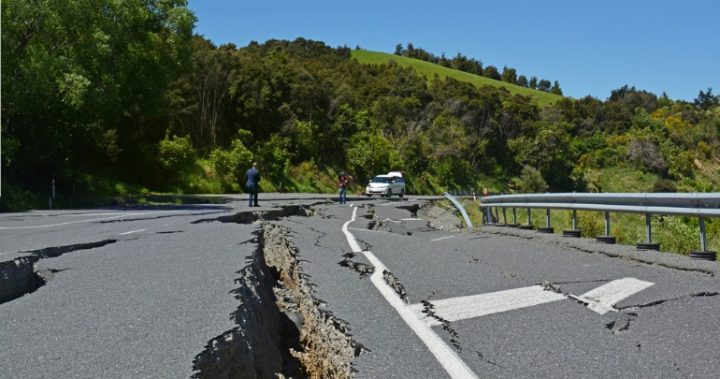 A magnitude 5.5 quake has been recorded in the upper South Island of New Zealand. The quake occurred about 4.15pm (2.15 AEDT) on Sunday and was recorded as strong by GeoNet. The magnitude is an initial reading. This is the third quake reported this year and smaller quakes have been happening since the November shake.
It was at a depth of 12 kilometres and was centred 10 kilometres east of Seddon, reports Sydney Morning Herald.
The owner of SuperValue in Seddon Kevin Kamat said the shaking lasted for about five seconds, reports New Zealand Herald.
"It was quite strong. We had about 12 customers in the store and everyone made a beeline for the door."
GNS Science duty seismologist Bill Fry said the quake was part of a sequence of aftershocks following the magnitude 7.8 quake on November 14.
Ad. Article continues below.
"It's in a location that we've seen a lot of other earthquakes. It was quite large," he said.
He said that, at the epicentre of the quake, the ground shaking would have been severe.
About 6892 people, mostly in the upper South Island and throughout the lower North Island, registered with GeoNet that they felt the quake.
It also triggered a relatively moderate quake in the Hawke's Bay region about the same time, Mr Fry said.
M5.5 quake causing strong shaking near Seddon https://t.co/DmRxAFC3sX

— GeoNet (@geonet) December 4, 2016
Ad. Article continues below.
The Hawke's Bay quake, centred 25 kilometres south of Hastings, was initially recorded as a 4.8 but was downgraded to a 3.
Thousands of aftershocks have been recorded since the 7.8 quake three weeks ago, which isolated the South Island coastal settlement of Kaikoura and altered the landscapes around it.
Felt that shake here in Wellington. Hope everyone is doing ok #eqnz https://t.co/GeJWoHURmM

— MCDEM (@NZcivildefence) December 4, 2016
The Fire Service says there have been no damage reports yet from the aftershocks on Sunday.
Have you been affected or know anyone who might have been as well?