Bob Katter slams Terri Irwin over her "greenie" views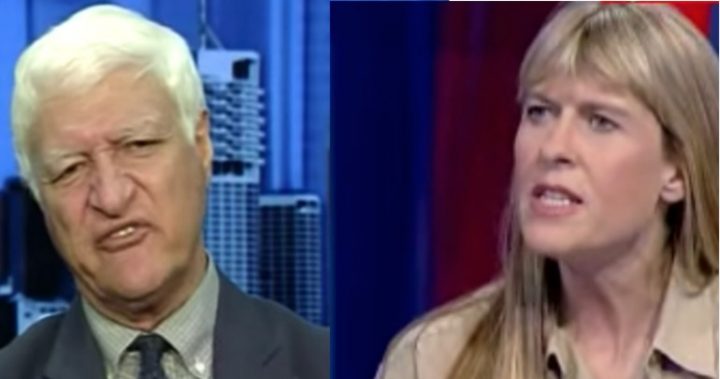 You might remember reading on Sunday about Terri Irwin calling on Queensland MPs to rule out culling crocodiles.
Well, her comments have drawn the attention of federal MP Bob Katter and the North Queenslander isn't happy!
In a statement, Katter said Irwin should "start living in the real world" where crocodiles were ripping humans "to be pieces".
Nine News reports he was critical of Irwin's "greenie" views.
"And I don't care if she's St Gabriel's mother, we're being eaten and ripped to pieces (the most savage death imaginable ) so that she can keep her spiritual belief system intact and get herself a lot of publicity at our expense," Katter said in the statement
Ad. Article continues below.
The debate, which began after a woman was taken by a croc in May, was sparked after the Queensland LNP announced they would form a crocodile management plan before the 2018 state election.
Read more: Wildlife warrior condemns croc cull idea
Irwin said people should learn to co-exist with the crocs.
"Crocodiles are an apex predator and crucial to the ecosystem, keeping water ways and wetlands healthy," she said.
"It is much better to educate people about croc safety than destroy one of our tourism icons."
Ad. Article continues below.
Read more: Is culling really the answer to stopping crocodile attacks?
But Katter is having none of it.
He compared Irwin's comments to asking humans to "move out" of their homes to make way for crocodiles.
In fact, he believes the eco-system was being affected by the growing crocodile population in far north Queensland.
Ad. Article continues below.
"The dingoes, the goannas and gropers. There was equilibrium in nature. If you are a respected naturalist you would know that this was the territory of man, not the territory of crocodiles," he said.
"The catch of 60 croc eggs would keep a First Australian family going for a while – and similarly with dingoes, the goannas and gropers.
"Now we have an unnatural environment and things are out of whack."