Bob Irwin opens up about his last day with Steve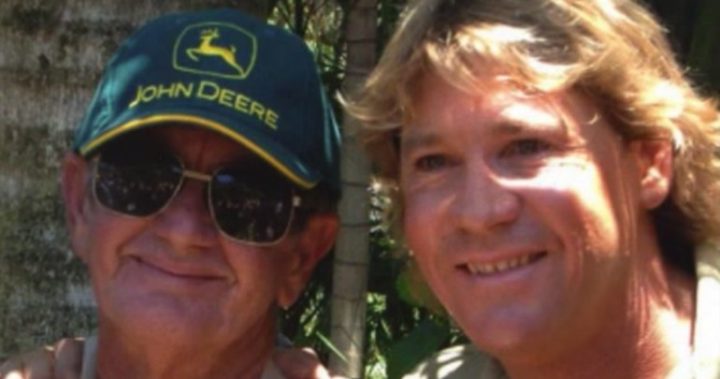 If you've ever lost a child, then no doubt you remember clearly the last time you saw them.
For Bob Irwin, the last moments he spent with his son Steve were emotional.
Irwin shares his last memories of Steve in his new book The Last Crocodile Hunter: A Father and Son Legacy.
He last saw his son as they wrapped up a crocodile research project in north Queensland, just weeks before Steve died.
In an excerpt of the book shared with NewsCorp, Irwin recounts how he and Steve sat by a campfire and talked for hours.
Ad. Article continues below.
He writes about how Steve had been battling numerous injuries sustained over the years.
"You know I can see you struggling. It's as clear as dog's doovas," he said to Steve.
"Steve owned up to it. He knew he didn't have to keep up his guard with me. "I think I've nearly reached my used-by date.""
"In his lifetime he'd been snapped, gnawed, clawed, bitten, savaged, jumped on, whacked — you name it. He had scars all over him. No two fingers were the same; each one had either been broken, split or chomped. His hands were virtually scars on scars."
The pair sat by the fire and talked, with Irwin recalling how his son revealed the physical and mental demands of his filming schedule.
Ad. Article continues below.
"We sat discussing how physically demanding these last four weeks in particular had been on him, and mentally it was challenging him no end," Irwin writes.
"I want to cut back on the filming, on all of it. I want to spend more time getting Bindi into it and being home," he said."
"Steve told me that he was facing an almost endless series of television projects in the months ahead.
"It was an unrelenting schedule which he told me he had little enthusiasm for despite the fact that he was aware of what it enabled him to do for the conservation side of things and spreading his message.
"He wanted more time to get back to the things he really enjoyed, being a dad and being hands-on in the conservation field."
Ad. Article continues below.
Irwin reveals how the conversation soon turned to memories of their time together.
"We kicked back for hours longer, one of those nights I wished would go on forever. We reminisced over the early days of mishaps, close calls and belly laughter along the track," he writes.
"We laughed out loud remembering the time he released a taipan in my camp – and the many times he really tested my patience when he approached me in the zoo as his irritating alias "Glen Glamour" with hideous fake buckteeth and wig to move about unrecognised by fans."
The next morning came the final goodbye, with Irwin recounting how Steve "appeared somewhat emotional".
""See ya later, Bob"," he writes.
Ad. Article continues below.
""See ya, Steve. Take it a bit easier," I said, fully aware that it was a waste of time saying anything like that, because Steve only had one way of doing things and that was flat out.
"I drove away feeling a portion of the weight of my son's pain as I caught him in my rear-view mirror staring blankly at the red tail-lights of my truck. The truck's lights were my wave goodbye.
"To me, he still looked just like that helpless blond-haired kid in an adult's body, who had a robust, gung-ho exterior but was soft on the inside like the sinking mud of Cape York's mangroves; that same little boy who, no matter how many times he'd beat himself up, still needed his mum or dad's reassurance when he was in pain.
"You never expect that's the last time you're ever going to see your son, but I certainly had a feeling he sensed something was about to happen."
How sad is this? What words of comfort would you offer to Bob Irwin?