Bob Hawke shows us he can still skol like a 20 year old... at 87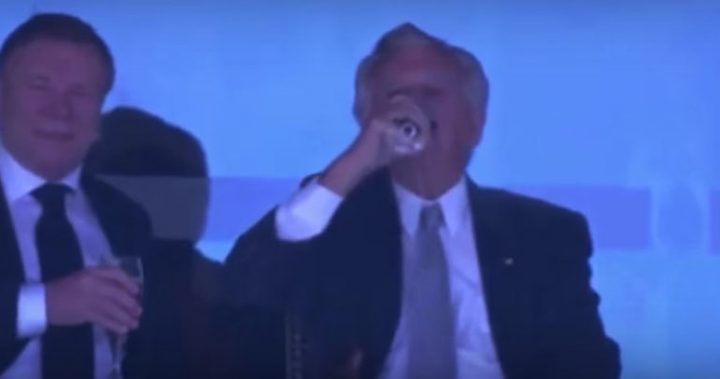 Bob Hawke has knocked back another coldie for the crowd today at the SCG, showing us all you're never too old to have a little fun.
Our oldest living former Prime Minister is out to show us all he's still got a love for the amber ale, and can be a crowdpleaser too.
Hawke was at the SCG today, watching the Aussies take on Pakistan like thousands of other cricket fans were doing from their lounge rooms.
But as Australia watched on, the cameras turned to the 87-year-old and he couldn't resist living in the moment.
Hawke spotted himself on the big screen, grabbed his beer and skolled it back – to widespread applause and cheers from the crowd!
Ad. Article continues below.
Even though it's been more than 20 years since he left office, Hawke continues to be a household name with not only his generation but your kids and grandkids.
And while it's because he's skolled a few beers for the cameras, let's face it – he's showing everyone you can never be too old to have a good time.
Former 🇦🇺 PM Bob Hawke skulling a Beer 🍻 at @scg #WhatALegend #AussieBob #AUSvPAK pic.twitter.com/V2TRrUvvzg

— Dougie & Creeny (@creeny1) January 4, 2017
Take a trip down memory lane below with these videos of some of Bob Hawke's other infamous beer skolling moments, there's no denying he's an Aussie legend!

Are you a fan of Bob Hawke? Do you get a kick out of watching this?