Bindi Irwin's heartwarming tribute to her boyfriend as he heads home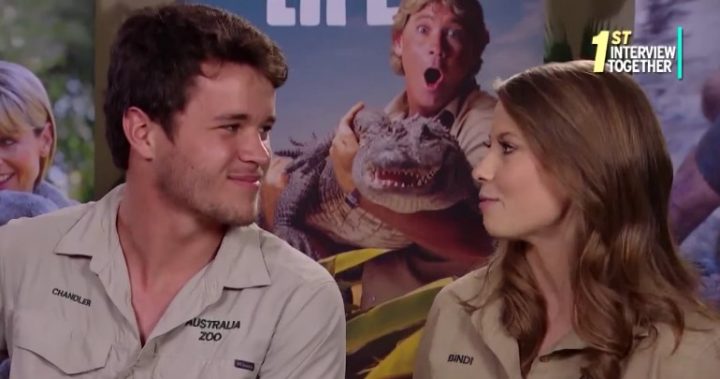 Do you remember when you were young and in love and living apart from your first love?
Maybe they lived in another city, or another country?
Well, Bindi Irwin is experiencing that right now with her boyfriend Chandler Powell – and you'll know all too well how she's feeling.
Read more: Bindi Irwin and her boyfriend go wild in memory of Steve
You might not know this, but Chandler actually lives in the US and has to return home every few months.
Ad. Article continues below.
Bindi shared a photo of the couple on Instagram yesterday, after dropping Powell off at the airport to fly home.
"Dropping you off at the airport & waving goodbye, it never gets easier," she wrote.
"Thank you for the most wonderful adventures these last few months. We even got to celebrate your 20th birthday here in Australia together, hiking through the Great Dividing Range!
"I've known you since you were 16 and every day, from the very first day I met you, you've been my sunshine. I will see you again soon!
"Thank you for everything, you always make me smile, no matter how far apart we may be. Have fun while you're away, go find lots of manatees in Florida for me! I miss you so much already. You really do mean the world to me."
Ad. Article continues below.
Ad. Article continues below.
Chandler also posted a heartfelt Instagram post about heading home and leaving Bindi behind.
He shared a photo of the couple walking hand-in-hand in their khakis.
"Each good bye gets more and more difficult," he wrote.
"I always carry even the smallest of moments, like these sunset walks through the zoo, with me no matter where I go.
Ad. Article continues below.
"Counting down the days until I'm back with you again creating more incredible, unforgettable memories. Thank you for making me so happy each and every day."
Ad. Article continues below.
We've watched Bindi Irwin grow up right before our eyes, in a way she probably reminds many of us of our own grandchildren.
As a grandmother, what advice would you give to Bindi? Do you remember feeling like she does when you were young and in love?