Bill Shorten slams Malcolm Turnbull for "earning the praise of Pauline Hanson"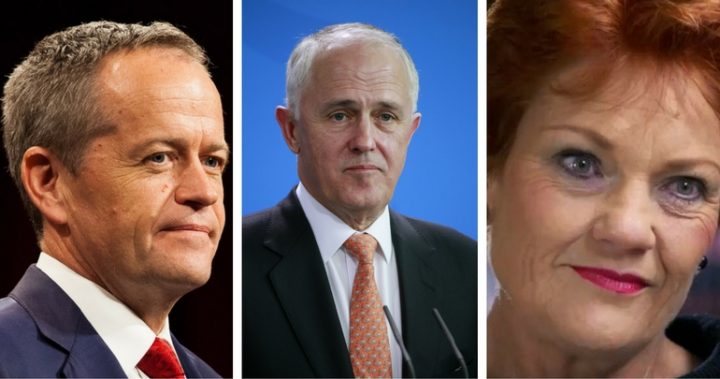 Bill Shorten has questioned the motives behind the Turnbull government's decision to introduce the ban on asylum seekers who arrive by boat, and has slammed the Prime Minister for caving in to right-wing extremists in the Coalition. He said, "He's earning the praise of Pauline Hanson – I hope he's proud of that. The old Malcolm Turnbull would never have proposed this to keep the extremists in his party happy.   
"We'll look closely at the legislation when the government can be bothered releasing it." 
The Labor leader says it seems "ridiculous" a refugee would be banned from coming to Australia as a tourist or on a business trip, but has also stated that Labor will consider the government's new crackdown to stop refugees held in offshore detention facilities from ever coming to Australia.
The Sydney Morning Herald reports Mr Shorten's first comments since the Prime Minister's announcement over the weekend, quoting him as saying, "It seems ridiculous to me that a genuine refugee who settles in the US or Canada and becomes a US or Canadian citizen is banned from visiting Australia as a tourist, businessman or businesswoman 40 years down the track. 
"Whether he likes it or not, refugees such as Frank Lowy, Gustav Nossal and Hieu Van Le have made a huge contribution to Australia. As an Australian, that's something I'm very proud of.
Ad. Article continues below.
"Of course people who come by people smuggler should not be allowed to settle here – we will never allow the people smugglers back in business."
Other Labor MPs have called the proposed lifetime ban "extreme", "evil" and "sick", as the party strengthens its opposition to the proposal.
One Labor frontbencher said the government needed to make the case for the change but, on the face of it, the proposal was "abhorrent" and unrelated to the policy of refusing resettlement to those who came by boat.
"It's up to the government to explain why it is that this law is needed, given that they keep saying the boats have stopped," the source said.
"How does refusing someone a tourist visa in 20 years' time support that policy? It doesn't. This is a law which deals with other matters. It might be that there's uniform opposition in Labor to it. [Personally] I find this abhorrent."
Ad. Article continues below.
Another Labor frontbencher, Terri Butler from the party's Left faction, has said that she was not persuaded by Mr Dutton's argument for the ban.
"I'd be inclined to see the legislation and hear from Peter Dutton about its merits and ostensible motivation. But he has been pretty unpersuasive so far," she said.
"Our policy – for 90-day processing while in safe accommodation, then regional resettlement for people who've fled persecution to start a new life – has not been honoured by this government.
"Under Labor, people's time on Nauru and Manus Island was to be both safe and brief. Under the Turnbull government it has been dangerous and indefinite."
One Nation leader Pauline Hanson applauded the government's tough stance, indicating the Government should stop Australia's refugee intake altogether.
"I think we need to make a very tough stance and put out a clear message: refugees are not welcome here," Senator Hanson told Channel Seven. "Look after our own first, when we become a very wealthy country, hopefully again, then we can look at other people."
What do you think about this blanket ban on asylum seekers ever entering Australia?