Bill Shorten pranks radio host in awkward interview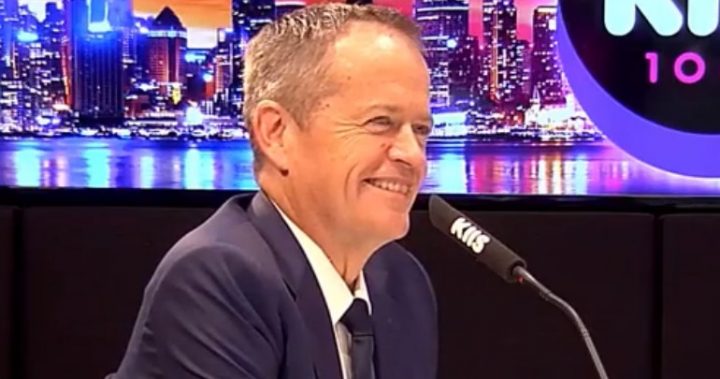 You'd think as the Opposition Leader people would recognise you?
Well, it turns out not everybody does – and Bill Shorten has found that out with hilarious consequences.
Shorten appeared on KIIS FM's breakfast, pulling a prank on radio host Sophie Monk.
So, if one of the most recognisable politicians in Australia was on your show, you'd know who he was right?
We hear all the time about younger people being disinterested in politics, but this one takes the cake.
Ad. Article continues below.
Read more: Are these two words you'd use to describe Bill Shorten?
It turns out Monk was tricked into thinking the Labor leader was an actor on Home and Away, just six months after she was tricked into thinking an actor on Home and Away was Shorten.
The 36-year-old, who admitted she doesn't follow politics, completely fell for the trick – failing to recognise the politician for who he really is.
But after questioning why Shorten was dressed in a suit and tie and followed by a group of people, the Labor leader finally let the cat out of bag.
"I saw all your people out there. They're all wearing suits. It's a bit Men In Black," Monk said.
Ad. Article continues below.
A few minutes later Shorten laughed and smiled, revealing who he was to the embarrassed radio host.
"Why am I always the fool?' she said.
"'I've got no dignity!
"I'm so rude and sorry."
Could this be a sign that younger people are losing interest in politics? Or is it just a silly prank?