Bill Shorten hits out, says Malcolm Turnbull "politicising" renewables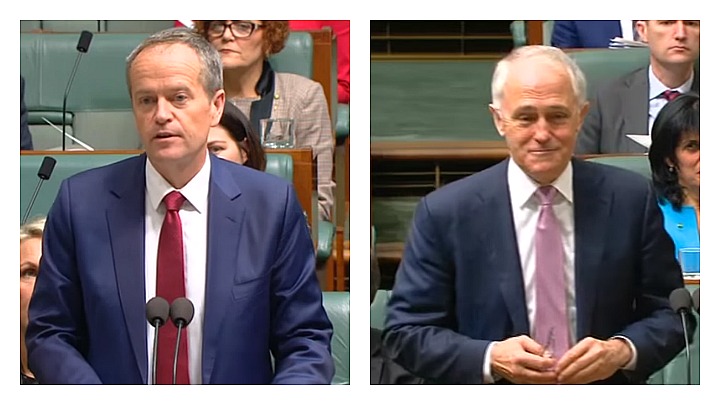 Bill Shorten has accused the government of playing politics and blaming renewable energy for the power outages caused by the storm which ravaged South Australia last week.
Meeting emergency services personnel at Roseworthy, north of Adelaide, the Opposition Leader said it was necessary to have a discussion about how we improve and formulate the national energy market, but not in the immediate aftermath of the storm.
"I have to say I'm disappointed in Malcolm Turnbull seeking to politicise a one in fifty year storm," he said.
"I think rule 101 of natural disasters is the politicians should not play politics," Mr Shorten said.
"Playing politics and trying to blame renewable energy for the storm and damage it caused by Malcolm Turnbull to me was exactly the lack of leadership and Australians don't expect that from their leaders.
Ad. Article continues below.
"There are people as we speak doing rescues, fixing fences, mopping out their houses. They don't need to hear politicians trying to score a cheap political point."
Mr Shorten said renewable energy had not caused the storm.
"Renewable energy didn't blow over 23 transmission towers or cause 80,000 lightning strikes," he said.
"It didn't create cyclonic winds of 125km/h. The fact is that it didn't matter how power was generated, this was a failure of the transmission systems.
"You could have had coal-fired, any sort of power generation. This was a catastrophic failure in the transmission systems.
Ad. Article continues below.
"Labor is up for a discussion about how you regulate and sort out a national energy market but we won't use this storm and the damage it has caused to score some sort of Tony Abbott-like point about renewable energy."
Greens leader Richard Di Natale accused the Turnbull government of rubbishing a renewable energy industry "that is a recipe for jobs and growth in Australia".
"It's absolutely remarkable," he said.
"(We're) the only country in the world to have removed a price on carbon, the only country in the world that at a moment of crisis, rather than embracing the renewable energy revolution, we're turning our back on it.
"It's bad for the economy, it's bad for climate change, it's bad for jobs, it's bad for investment."
Share your thoughts below.