Bill Leak addresses 'flippant' racism case against him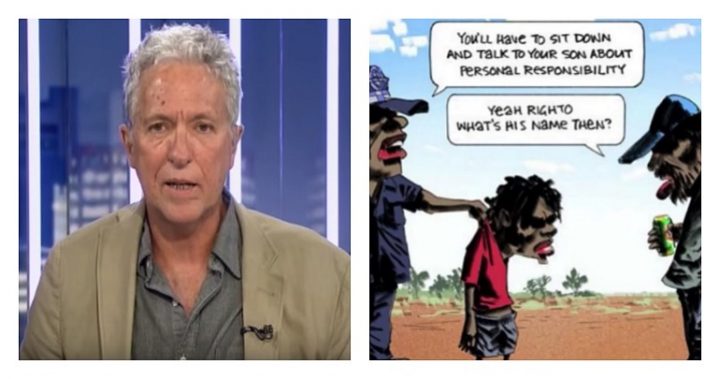 The woman who lodged an official complaint against cartoonist Bill Leak over his controversial drawing depicting an Aboriginal father and son has dropped the case because she didn't think Leak was going to cooperate with the conciliation process.
Leak's cartoon caused outrage and debate around the country after it was published online and in an issue of The Australian newspaper.
The drawing shows a police officer returning a young boy to his Indigenous father, who doesn't seem to know his child's name.
Melissa Dinniso, a 25-year-old Indigenous woman, lodged a complaint under section 18C of the Racial Discrimination Act against Leak but has now dropped it because she didn't think he was willing to cooperate.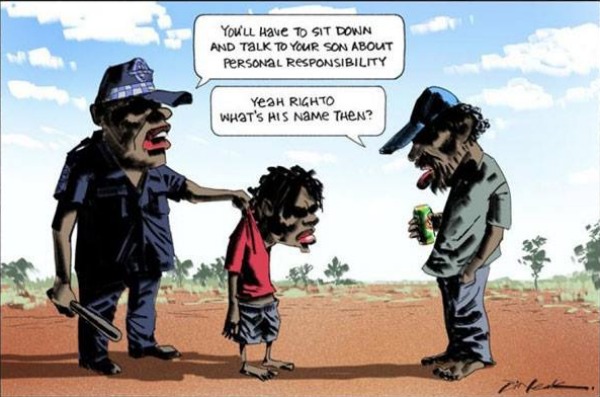 While she says the cartoon caused great distress to many Indigenous people, Leak says the complaint against him has caused him an immense amount of stress and hurt.
"So I began to feel that I was being used to push an agenda and I felt that The Australian wanted to coax me into taking this to court because they were confident that they would win," Ms Dinniso said.
"And that a second win against 18C would help to push their agenda, and I guess watering down the Australian Human Rights Commission or even dismantling it completely."
Ad. Article continues below.
Ms Dinnison as insisted she never wanted compensation, but requested she be able to talk to Leak to tell him how cartoons like that affected Aboriginal people.
"It didn't seem fair to me that somebody with that much power and that much sway over public opinion could publish such derogatory and hurtful things like this, and then decide that they didn't want to hear from anybody who had an opposing opinion," she said.
"Cartoons like this make me feel like it doesn't matter what I do or how hard I try, it's never going to be good enough and people will always be able to reduce me and my people and my family to such horrible degrading cartoons."
Meanwhile, Leak says the whole case has thrown his life into chaos and that he doesn't believe she should be able to get away with dropping the case without consequences.
"This woman, I believe, has very flippantly and recklessly lodged a complaint with the ARHC," he said.
Ad. Article continues below.
"It shows what a farcical process this is.
"I've got News Corp backing me legally. But if I was a private citizen, this would have cost me an absolute fortune.
"She has put me through a month or so of incredible stress.
"She never met me, she doesn't have to justify anything she does, no one asked her any questions and it doesn't cost her a cent.
"As a consequence my life has been thrown into utter chaos. "
The case has sparked widespread debate across the country, with some arguing the cartoon was satirical and that people should accept it as a joke. Others though believe it is incredibly offensive and that both Leak and The Australian should face consequences.
What do you think? Was the cartoon offensive, or just a joke?