Beautiful gesture of sportsmanship following horrific plane crash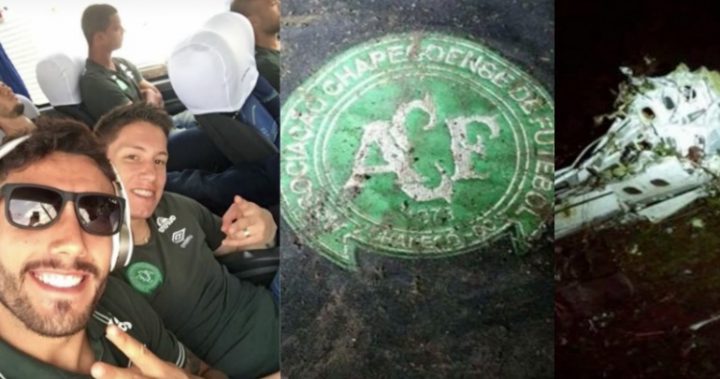 What was meant to have been an monumental moment in the history of Brazillian soccer club, Chapecoense, turned into disaster. At around 03:15 GMT on Tuesday, as the Chapecoense team were flying to Medellin to face Colombian outfit Atletico Nacional in the final of the Copa Sudamericana, their plane crashed. Of the 81 people who were on board flight LMI2933, 76 are understood to have lost their lives and only a handful of people are thought to have survived. Two Chapecoense players survived the plane crash.
As family, friends and fans mourn the death of those who did not survive the tragedy, five top Brazilian football clubs have come forward to display a tremendous gesture of sportsmanship. These clubs have said they will loan Chapecoense, their players for free after the horrific plane crash that killed all-but three of their squad. Directors of Coritiba, Corinthians, Palmeiras, Portuguesa, Santos and São Paulo have put forward a motion to the Brazilian FA that Chapecoense will not be relegated from the top flight for three years, The Sun reports.
In a video released, the directors of the well-known Brazilian clubs said: "We are sad, we sympathise with this tragedy, but we shall help.
"Working together, we, club presidents of Brazilian football, wait for the club's return to compete in the highest competition of Brazilian football.
"We are willing to talk to other clubs to develop a project to loan them good level players so they can compete in the 2017 competition."
All the members of the #Chapecoense team who passed away today. Rest in peace to not only them, but every single person who lost their life. pic.twitter.com/rEc8sNcD80

— StreamPlanet (@Stream_Planet) November 29, 2016
Ad. Article continues below.
Last minute flight changes
In a heartbreaking revelation, it has also been reported that the Brazilian First Division team of Chapecoense actually changed its flight at the last minute before meeting with the unexpected tragedy. The club issued a statement shortly after the tragedy, saying: "May God accompany our athletes, officials, journalists and other guests travelling with our delegation."
A club badge was reportedly found at the scene of the crash in Colombia.
Police confirmed the shocking death toll after hours of mixed reports suggested there had been dozens of survivors.
Treacherous weather conditions severely hampered the rescue operation as ambulances struggled to reach the remote crash site, reports News.com.au.
The Copa Sudamericana, where the Chapecoense was supposed to be playing at is South America's second-most prestigious cup competition. Now, Atletico Nacional, the Colombian team who were supposed to play against Chapecoense has petitioned that the trophy is given to the Chapecoense club as a tribute.
Ad. Article continues below.
The match would have marked a meteoric rise for Chapecoense, who were only promoted to Brazil's top division for the first time since 2014.
These are the players who didn't get on the plane, after they were told the plane crashed. #Chapecoense , so sorry.. pic.twitter.com/4YI2HEEy9P

— ᴛʀᴇʏ (@thebronxb) November 29, 2016
Tributes from all over the world have been flowing since Tuesday
Here are just some of the beautiful tributes shared on social media.
Ad. Article continues below.
Wembley pay respect to the #Chapecoense plane crash victims in stunning fashion https://t.co/jxYUfWkVHM pic.twitter.com/S8h9nEK3TP

— The Sun Football ⚽ (@TheSunFootball) November 29, 2016
HERMOSO! Hinchada del Liverpool rinde tributo a #Chapecoense. Cantan "You'll Never Walk Alone". Piel de gallina.. pic.twitter.com/LsDOiLnMAt

— Noti Futbol (@NotiFutbol) November 29, 2016
Un dibujo que vale más que mil palabras. #Chapecoense pic.twitter.com/QnyE98tzBZ

— #Fichajes Fútbol (@futbol_transfer) November 29, 2016
Ad. Article continues below.
Prayers for #Chapecoense
This is how they wanted to be remembered💚⚽️pic.twitter.com/BL8HL4lkNn

— Footy (@FootyVibez) November 29, 2016
#Chapecoense could be named honorary Cup champions as Brazilian clubs call for them to be exempt from relegationhttps://t.co/nn2GWvUe68

— Telegraph Football (@TeleFootball) November 29, 2016
Do you think that 2016 has been the year of aviation tragedies?