Barnaby Joyce slammed for 'stupid' comments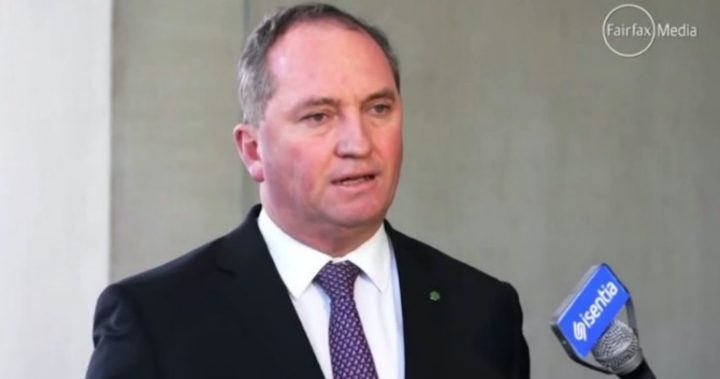 Deputy Prime Minister Barnaby Joyce is copping plenty of flack this morning for his comments about housing affordability in Sydney and Melbourne.
In a similar vein to comments made by former federal treasurer Joe Hockey, Mr Joyce has come under fire for suggestion people simply pack up and move out of the city if they want to own a home.
While it may have sounded like an innocent enough comment at the time, people were quick to jump on it, asking Mr Joyce if he expected them to also quit their jobs, pull their kids out of school and uproot their whole lives just so they can purchase a home.
Owning a home is still considered by many to be part of the Great Australian Dream, where having a house and a backyard to play cricket with the family is not only an Aussie tradition, but a basic right.
When asked about the skyrocketing price of property in the major cities yesterday, Mr Joyce's response was blunt.
Ad. Article continues below.
"I get annoyed when people talk about that the only house that you can buy apparently is in Sydney and it's too dear," he told ABC Radio National. "There are other parts of Australia. I live in one, it's called Tamworth.
"Houses will always be incredibly expensive if you can see the Opera House and the Sydney Harbour Bridge. Just accept that.
"Houses are much cheaper in Tamworth, houses are much cheaper in Armidale, houses are much cheaper in Toowoomba.
"Sydney's wonderful and so is Melbourne. The trouble is so many people think it's wonderful that the price of houses is incredibly expensive. But there are other parts of Australia.
"I did move out west so I can say this – if you've decided you've got the gumption in you and you want to move [west], you're going to have a very affordable house. If you say 'I want a really affordable house in Mosman,' well, don't we all."
Ad. Article continues below.
However, many have hit back saying it is impossible to live out in the country and continue to find work.
"A true intellectual heavy weight. I can't understand why so many are unhappy on a number of issues when we have Barnaby and his insightful solutions. Life would be so much better if we only listened to Barnaby," one voter commented sarcastically.
"And what incentives for large businesses to go rural are there Mr Barnaby?" questioned another.
What are your thoughts on this? Do you agree with Barnaby Joyce? Or is he out of line?