Barnaby Joyce grilled and schooled on LIVE TV like a child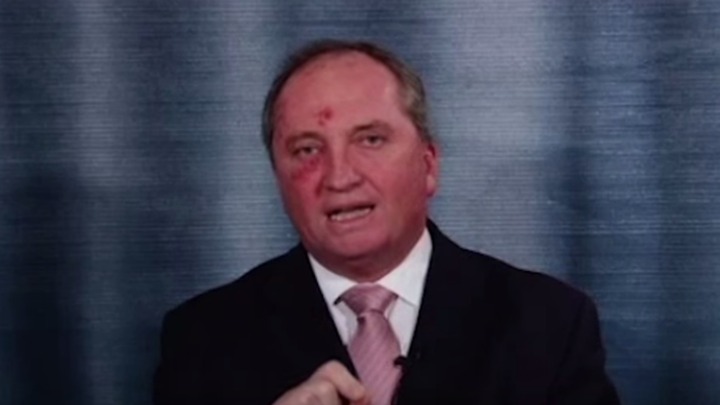 When Acting Prime Minister Barnaby Joyce was about to go on for a TV interview, he probably had no idea he was about to be grilled LIVE over something he had done in the past.
Leigh Sales grilled Mr Joyce over his political donations he received from billionaire Gina Rinehart, three years ago.
The ABC 7.30 host continuously pressed Mr Joyce about how Ms Rinehart's $50,000 donation to his election campaign was any different to that of Labor senator Sam Dastyari, who is now in hot water after having asked a Chinese company to foot his travel expenses.
But Mr Joyce was quick to point out that Mr Dastyari had taken the money for himself while the donation he received in 2013 went towards a political party.
"The money goes to a political campaign, a party, it is auditable," Mr Joyce said, reports Daily Mail.
Ad. Article continues below.
"What we have here is a direct cash payment to an individual by an entity closely associated with the Chinese Government and at the same time, so there's definitely correlation – a substantive change to a policy, not even the policy of the Labor Party. It's the policy of Sam Dastyari. Mr Shorten has to explain this," Mr Joyce continued.
Mr Dastyari recently admitted to accepting $1,670 from Chinese company Top Education Institute to cover his travel bill and has since been at the centre of controversy.
When Ms Sales repeatedly asked about the donation made by Ms Rinehart, Mr Joyce claimed other parties received campaign funds as well.
"What do you think that you have to give her in response? Is it access? Why does she give that money? What does she expect?," Ms Sales asked.
"I'm asking you what you, do you think you have to take phone calls from people or attend functions? What do you think you have to do?'
Mr Joyce then responded: "To be honest, Ms Rinehart, I haven't had to give anything. They are strongly of the conservative side of politics."
Are you satisfied with that answer?