Barnaby Joyce declares war on One Nation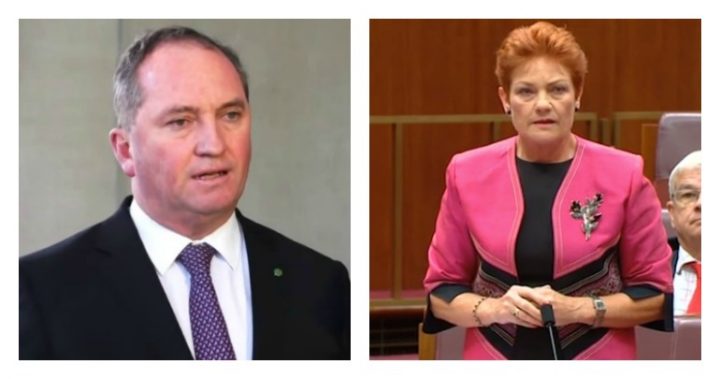 Nationals leader Barnaby Joyce has accused Pauline Hanson's One Nation party of sabotaging Government policies saying they "want to create complete and utter political mischief and bastardry".
The deputy prime minister's comments were made after Hanson and senator Brian Burstone failed to turn up to a vote on the proposal to increase the passenger movement charge on international airline tickets — also known as the departure tax — by $5 to $60, costing the government millions in revenue.
The motion on November 23 failed to pass through parliament as a result of their no-show, and Joyce and other Coalition senators were unimpressed.
When the passenger movement increase was put before parliament on November 24, it passed 35-34.
According to news.com.au, the Coalition is concerned about the amount of political support One Nation is getting.
Ad. Article continues below.
At the next Queensland state election it has been revealed that One Nation will likely put up to 60 nominations forward, and in New South Wales the Nationals lost its seat of Orange to a minor fishers and shooters group meaning it could be feeling the squeeze.
A recent poll suggests that up to 45 per cent of voters in Queensland believe Pauline Hanson responds better to their concerns than the Coalition or Labor. The party's federal vote in the state has more than doubled from 5.5 per cent to 12 per cent since the July election.
Why do you think One Nation has increased in popularity in recent months? Which party is addressing your concerns the best?