Barnaby Joyce caught in another fight with a major celebrity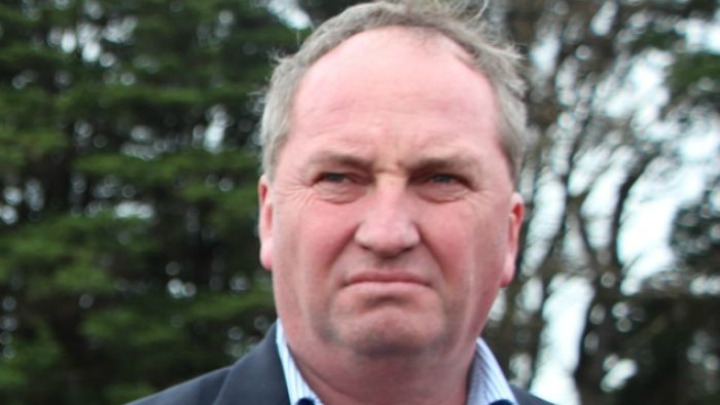 His infamous fight with actor Johnny Depp made headlines around the world and now deputy prime minister Barnaby Joyce is at it again, this time having a go at The Smiths singer Morrissey.
The spat started when Morrissey, who is a passionate animal rights activist, penned a letter to Mr Joyce about Australia's live export trade, which has copped a lot of criticism in the past.
The open letter appeared on PETA's website and called on Mr Joyce to stop the export of live animals, saying it was a cruel and unnecessary practice.
"The horrific cruelty in the live-export trade is heavy enough to sink a ship, yet you insist on condemning millions of animals to this fate every year. You can deny it until you are red(der) in the face, but the industry is dying," he wrote.
"If meat is murder, live export is the slow boat to hell. Please help pave the way towards a kinder future by putting the live-export industry out of its misery immediately."
Ad. Article continues below.
It didn't take long for Mr Joyce to fire back, taking to social media to have a go at the singer and tell him mind his own business.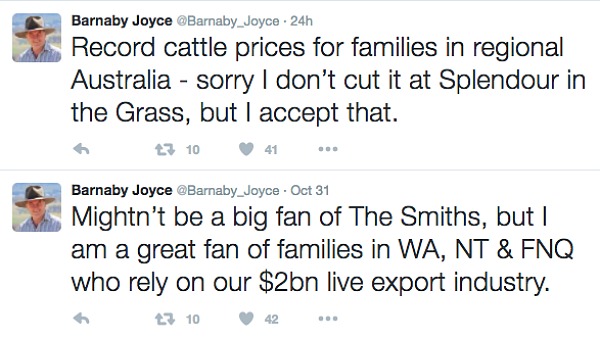 "Mightn't be a big fan of the The Smiths, but I am a great fan of families in WA, NT and FNQ [Far North Queensland] who rely on our $2bn live export industry," he wrote on Twitter.
"Record cattle prices for families in regional Australia — sorry I don't cut it at Splendour in the Grass, but I accept that," he added, referring to the popular Australian music festival.
Live export has caused a fair bit of controversy over the past few years, with numerous reports of animal cruelty in Indonesia and Vietnam. Despite calls for the Government to ban the practice though, they have held steady due to the farmers who rely on the trade and the $608 million it brings into the country every year.
Do you think Morrissey is right here? Or is Barnaby Joyce on the money with this issue?