Barack Obama tells Hillary fans to 'shut up'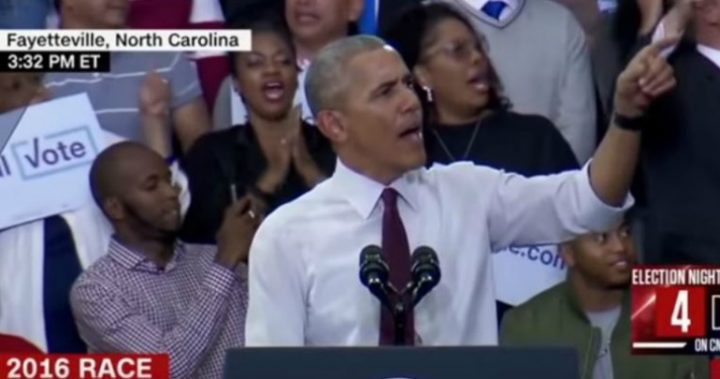 When it comes to the things that make United States president Barack Obama visibly angry, the defiance of rally-goers wouldn't make it high on the list. However, when he appeared at Fayetteville, North Carolina campaigning for Hillary Clinton a rowdy crowd did just that.
The president wanted the crowd to show an elderly Donald Trump supporter — and seemingly a veteran — some respect.
"Hey," Obama called out several times. "Listen up!"
However, when the rally-goers defied him and continued to scream at the man you could see Obama's patience being tested. Eventually, the president demanded every attendee at the Hillary Clinton rally sit down and shut up.
"Hey everybody, hey," Obama says. "I told you to be focused, and you're not focused right now. Listen to what I'm saying."
Ad. Article continues below.
"You've got an older gentleman who is supporting his candidate. He's not doing nothing," Obama says. "You don't have to worry about him."
He reminded the crowd that "we live in a country that respects free speech" before highlighting that the man "may have served in our military and we gotta respect that".
"Third of all, he was elderly and we gotta respect our elders," he said, scolding the crowd for booing the older gentleman.
When the crowd finally settled and were paying attention to Obama he said: "I want you to pay attention, because if we don't, if we lose focus, we could have problems… We just get stirred up for all kinds of reasons that are unnecessary. Just relax."
Ad. Article continues below.
The man who held up his placard in support of Trump for the next US president appeared to be wearing two patches on his jacket that signified he was a member of the US defence force. He had service medals, including what looked to be a Purple Heart and a Bronze Star, on his jacket breast.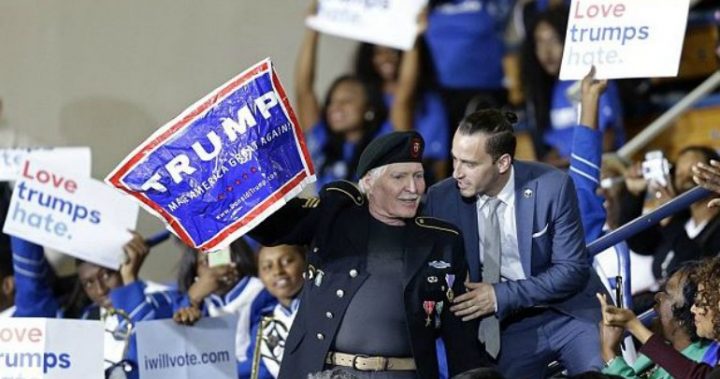 Obama also seized on the opportunity to detail why Trump would not be an appropriate choice for president.
"We can't afford a Commander-in-Chief who insults POWs, who attacks a Gold Star mother, who actually talks down our troops, says he knows more than our generals," Obama says.
"I had to sit down with somebody who explained this whole nuclear thing. It will sober you up," he says, reflecting on his first day in office. "It's serious business."
What do you think about the way Barack Obama handled the situation? Have you been following the United States election campaign?