Barack Obama speaks for the first time since Donald Trump was elected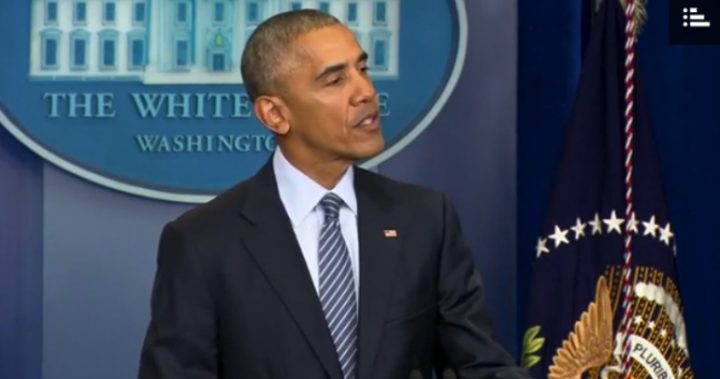 In his first press conference since the election ended, United States president Barack Obama has revealed he 'absolutely' has concerns about Donald Trump taking over the role in January and he offered the president elect a few 'words of warning' when it came to aspects of his behaviour.
"I think what will happen with the president elect is that there are going to be certain elements of his temperament that will not serve him well unless he recognises them and corrects them," Obama told the press.
However, while he revealed he had some concerns about Donald Trump in the White House, Obama also expressed hope that the man taking over the running of the country would not unravel what he feels are legacies of his time as president — health care, climate change and a commitment to restrain Iran's nuclear program.
"Do I have concerns?" Obama says. "Absolutely.
Ad. Article continues below.
"He is coming into this office with fewer set-hard-and-fast policy prescriptions than other presidents. I don't think he is ideological. I think ultimately he is pragmatic, and that will serve him well, as long as he's got good people around him."
Yet Obama would not be drawn to comment on his thoughts about Trump's first senior appointments, especially the announcement of Stephen Bannon as the chief strategist of his administration.
It appears too that Obama has taken a thinly veiled swipe at Hillary Clinton saying that he was victorious "not because of demographics, but because he spent 87 days going to every small town and fair and fish fry and VFW hall".
Prior to the election Barack Obama did more campaigning for Hillary Clinton that any other modern sitting president had for their party's nominee.
He told the media that some counties might have lost by fewer votes because he "dropped in" while others he won unexpectedly.
Ad. Article continues below.
"The challenge for a national party is how do you dig in there and create those kinds of structures?" Obama asks.
While Hillary Clinton spent a large chunk of her time in Iowa championing the Democratic party causes, she didn't dedicate time to the swing state Obama won in 2008 and 2012 and instead spent her time trying to win North Carolina and Pennsylvania.
She lost all three of those states and held one or no rallies a day, while Donald Trump conquered and lost most of the midwest.
While Hillary Clinton earned the most votes overall, she fell behind in the all-important Electoral College count that legally determines the outcome.
"We are now all rooting for his [Donald Trump's] success in uniting and leading the country. The peaceful transition of power is one of the hallmarks of our democracy," Obama says.
Obama will now take his last foreign trip as president — to Greece, Germany and Peru.
What do you think about what Barack Obama had to say? Do you think he has a point when it comes to discussing what could have caused the rise of Donald Trump to the presidency? Share your thoughts on this issue with us.