Barack Obama gets laughs as he takes down Donald Trump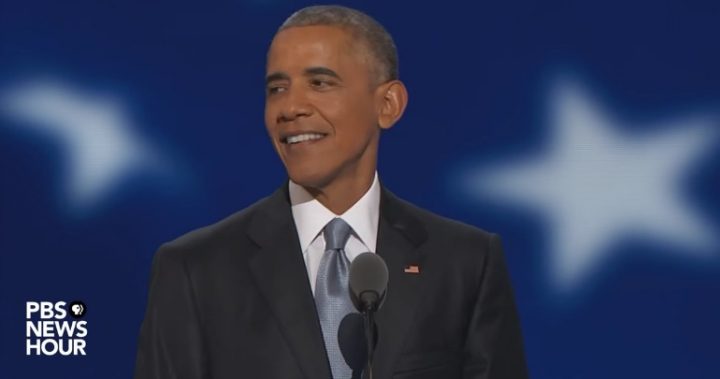 Following in the footsteps of his wife Michelle, US President Barack Obama has issues his own take down of Donald Trump.
While Michelle had the whole world talking after delivering her powerful speech about Trump's treatment of women earlier this week, Obama decided to go for a more lighthearted approach and had the crowd laughing along with him.
"If he'd rather make a buck of (the) dreams (of the working class) but not be honest on the side of the deal… you're not fit to be President of the United States.
"There's no record he's supported minimum wage, invested in poor communities and then suddenly he's going to be the champion of working people…. C'mon man," he said with a wry smile on his face.
He poked fun at Trump's love for celebrities and living a flashy lifestyle and accused him of "stiffing" workers.
Ad. Article continues below.
Read More: Michelle Obama bites back at Trump in emotional speech
"He's shown no regard for working people," he said to loud applause.
"All he had time for is celebrities… C'mon man.
"If you want a leader than values hard working and respects hard working Americans …. Then you should vote for Hillary Clinton."
He also stopped his speech halfway through to address a heckler in the crowd, joking that he was too old now to hear or see them properly.
Ad. Article continues below.
Meanwhile, Trump has angrily denied claims he sexually assaulted a number of women, calling the accusations vicious lies
"The stories are 100 per cent made up. They never happened. They never would happen," he said at a rally in North Carolina.
"I feel I have to talk about (rape claims). These are lies being pushed by the media and the Clinton campaign to try and keep their grip on our country.
"It's a total set up."
Do you think Trump has a chance of winning the election? Would you rather see Hillary Clinton in the White House?