Barack and Michelle Obama do the 'Thriller' dance for Halloween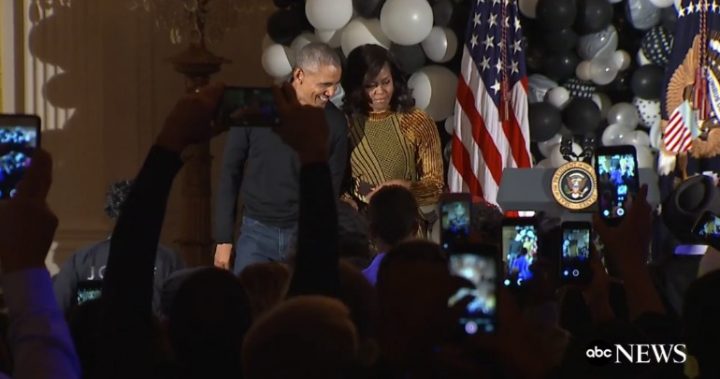 The Obamas are making their most of their last days in the White House joining dozens of children for a very special edition of trick or treat.
Barack and Michelle invited dozens of families to their home for Halloween where they handed out sweets to the children and entertained the crowd for hours.
There were plenty of cute costumes on display and both the president and the first lady made sure each child had got a 'hello' and a treat.
Later they stood on stage while a group performed the dance to Michael Jackson's hit song 'Thriller' and even tried to join in on the iconic dance.
Ad. Article continues below.
While the couple have never shied away from a chance to bust a move, it seems even they knew 'Thriller' wasn't their best attempt! They were seen laughing together as they tried to master the choreography and cracked up throughout the performance.
While Michelle is usually campaigning for healthy eating and plenty of exercise, the couple made an exception for the day.
"You guys all look scary, or cool, or whatever you're trying to be," Obama told the assembled trick-or-treaters. "We hope, parents, that on this day at least, you don't have to pay attention to Michelle and healthy eating."
Ad. Article continues below.
"Candy for everybody," the first lady agreed.
"And in fact, the more candy, the later you eat the candy, the better," said the president. "Because I think that you being up all night with a sugar rush is exactly what your parents are looking for."
Take a look at their moves and tell us what you think!

Are you a fan of the song? Do you like the Obamas?