Australian grandma divides opinion by giving birth to her own grandson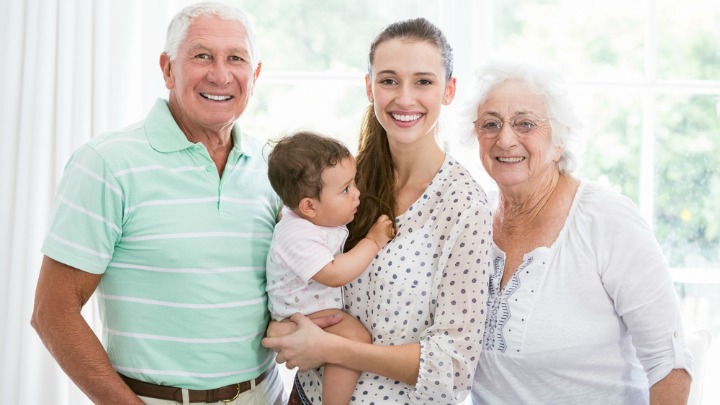 Alice was just four-years-old when she was diagnosed with leukaemia and despite going into remission at eight-years-old, she relapsed at nine.  Full body radiation meant she would later struggle to have children due to scar tissue.
Miraculously, she fell pregnant but later tragically lost her little boy at 15 weeks.
When doctor's told Alice Hohenhaus, 25, that complications with her uterus from leukaemia meant she would never be able to carry a baby to full term, she thought her dreams had been crushed forever.
But one day, Alice's mother, Theresa Hohenhaus, came up with a suggestion that would change her life – she offered to step in as a surrogate.
"Alice already had the embryos and I thought "why not?"," said Theresa, 46, who spoke to Daily Mail Australia.
"I thought I was too old and Alice didn't want me to do it at first but I had already almost lost Alice twice before – she hemorrhaged during her pregnancy and it was touch and go there for a while.
"Making her happy and seeing her happy now is worth it."
Ad. Article continues below.
Theresa, who is a mother-of-five and has fostered 50 children, became pregnant almost immediately.
"I said to Alice before I found out that I thought I was pregnant because I felt really sick. The next week we found out it was positive," Theresa said.
"It was amazing and every appointment and scan from then on we went to together and cried together… we are very very close."
From start, Theresa saw the growing baby as nothing but her grandson and gave birth to him on June 2nd.
"I would have to say it was the best experience of my whole life," Theresa said.
"I was worried about how I would cope when I had him but I had him naturally and afterwards they place him on my tummy and I had the first cuddle while Alice cut the cord.
"It was so beautiful. I was worried about handing him over at first and Alice was worried about how she would cope seeing me in so much pain. But we both made it through and it is a moment I will honestly cherish until I die."
"I would absolutely do it again," Theresa said.
"People are worried about the effort but I am in good health and it would be so lovely for Parker to have a brother or sister… I don't think we would donate that last embryo.
"I would do anything for my kids and it truly is worth every bit of it to see Alice so happy."
Theresa's extreme move to help her daughter has received some criticism saying that it's not right.
What do you think?