Australian Boomers dream big after cruising into semi-finals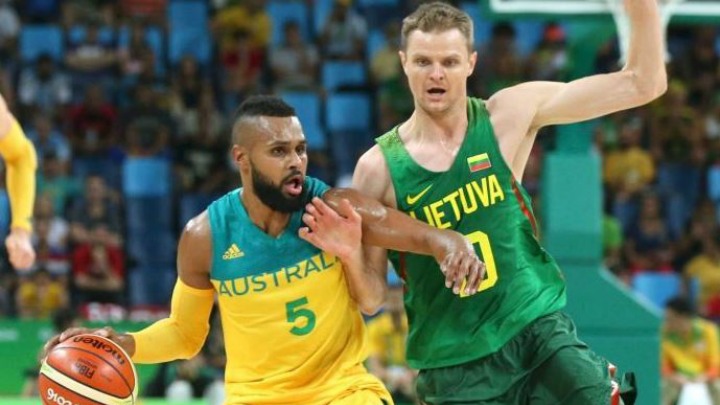 Australia's Olympic basketball team, the Boomers, are just one win away from creating history and winning their first Olympic medal after they crushed Lithuania in the quarter-final.
In case you were wondering, it has been 16 years since the men's basketball team has reached the semi-final round of the Olympic Games.
The team's 90-64 victory will see them shape up to either Croatia or Serbia.
It was a breathtaking performance by the Aussie Boomers, showing their trademark toughness and teamwork to get them through the match.
Ad. Article continues below.
The team's effort was celebrated globally, and many of the country's former players took to social media to rave about the Boomers' performance.
What a glorious display of basketball. Here comes the final 4 for the first time since 2000. This time a medal tho! #AwesomeTeamEffort

— Shane Heal (@ShaneHeal) August 17, 2016
Nup that's it I've officially lost it!! Hope the neighbours love their boomers too!! God damn! This is bloody brilliant!!

— Anthony Petrie (@Antpetrie17) August 17, 2016
Ad. Article continues below.
Coach Andrej Lemanis has faith his team will cause the upset of the Olympics and win gold in the men's basketball tournament. It's an event that for years has been dominated by the United States team.
"When we spoke about that as a goal of ours there were some people who scoffed in the community, but we backed ourselves. For us, that's still our goal. Our goal has not changed," Lemanis told the Sydney Morning Herald.
The Aussies won't see the US until the gold medal match if both teams keep winning.
When the pair met earlier in the group stage, the Boomers took comfort from a narrow 10-point defeat. While the Boomers destroyed Lithuania by 26 points, the US has only secured three-point wins over Serbia and France leading into the finals.
Have you been enjoying the Rio Olympics? Did you catch the Australia versus Lithuania basketball match?