Australia might finally be getting another major political party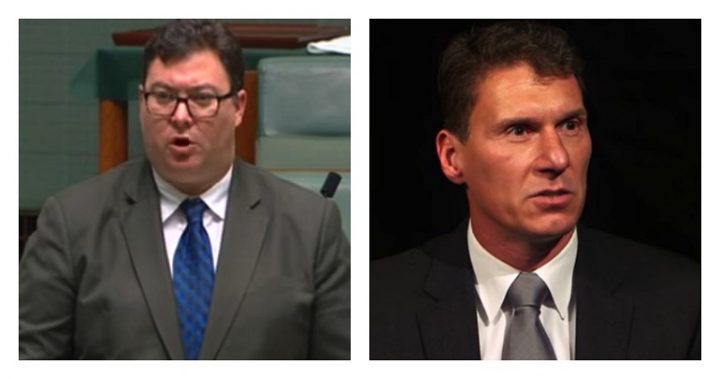 For years now we've been a country with two major political parties that fight it out time and time again every election year.
There have been rumblings in the past from people saying we need more variety and competition and less back door deals in the way of preferences.
Now, it looks like the prayers of many are about to be answered with reports Liberal MP Cory Bernardi and Nationals MP George Christensen are set to start an ultra-conservative party with the backing of mining magnate Gina Rinehart.
Both men have made a name for themselves in recent years for their rather extreme views on issues like abortion, gay marriage and refugees and most people recognise Rinehart as a stalwart Liberal reporter.
So could a party under their name succeed? Bernardi launched his own Australian Conservatives group earlier in the year, with many thinking it was the first step toward his own party.
Ad. Article continues below.
The reason so many people are paying attention is because it only took a few months for him to gather 60,000 members, all gunning for him to make it official.
Bernadi has dismissed the reports as just talk, but senior members of the Liberal party say it's likely he'll make the jump next year and launch the party that could change the face of Australian politics.
There has been a big shift in the country's political landscape over the past year with Pauline Hanson's One Nation swinging to victory with four seats as more and more people embrace conservative views.
It seems to be a trend around the world too, with voters opting for parties that are more about nationalism and old-school values than much of the Liberal politics that have reined over the past decade.
In Britain, people voted to leave the European Union and close their borders to the free movement in and out of the country that they, and millions of Europeans, had been enjoying for years.
Ad. Article continues below.
Parties campaigning for the Leave vote, did so on the premise that it was time to think about Britain and put their own nationalism first, globalisation be damned.
In Austria and the Netherlands, far-right parties caused a ruckus with rallies calling for bans on immigration and outright hatred against Islam.
And of course, in America, Donald Trump claimed a stunning victory over Hillary Clinton. With the two candidates campaigning for completely opposite ideals, it was clear how millions of Americans are feeling.
So could we be seeing the same thing happened here as well? If Bernardi and Christensen joined forces many are predicting they could be major competition for both Labor and the Liberals.
Bernardi has spent a fair bit of time in the US and says his time with the right wing movement there has driven him to bring those ideals home.
Ad. Article continues below.
"My time in the USA has made me realise I have to be a part of that change, perhaps even in some way a catalyst for it. Exactly what direction that will take is still a work in progress," Bernardi wrote in an email to supporters in November.
The conservative movement in Australia has caught on with a lot of 'middle Australia' voters as well as some baby boomer who say it's time Australia put Australia first again.
However, there are also those who believe moving away from the inclusive and multicultural push that has been so popular lately is a dangerous move and could see the country heading backwards.
What do you think?
Does Australia need another political party to compete with the majors? Do you support a more conservative or Liberal party?