Aussie teen facing jail time in Bali after being found with 'white powder'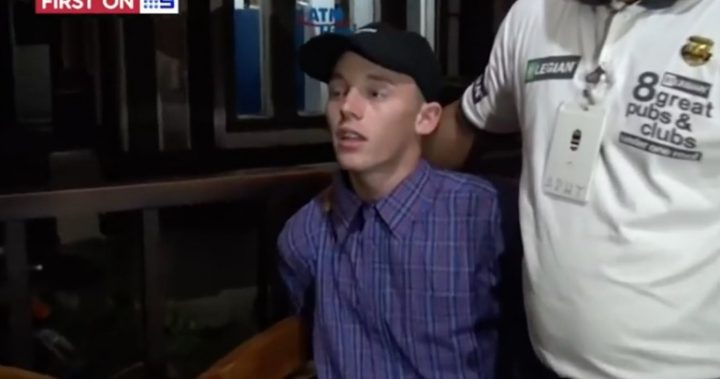 An Australian teenage is facing jail time in Bali after allegedly being found in possession of drugs at a busy nightclub.
Jamie Murphy, 18, was apprehended by security at the club, who produced a small bag of white powder from his belongings.
Police say they suspect it is cocaine. Indonesia has particularly harsh drug laws, which means if found guilty, Jamie could spend years in prison.
However, his friends, who Murphy was there celebrating schoolies with, caught the moment he was apprehended on camera and claim he was set up.
In the video, Murphy adamantly denies the powder is his as security search his pockets.
Ad. Article continues below.
Police have already taken blood and urine samples from the teen and are likely to charge him based on the results.
Even if the tests come back negative though he could still be charged for possession, which could see him spend years in jail.
The fact that the group of boys were there to celebrate schoolies has raised alarm bells for many with some suggesting they shouldn't have been allowed to go.
Teens have already been arrested for drug use, fights and dangerous behaviour at schoolies on the Gold Coast, only here the punishment is not has harsh.
Ad. Article continues below.
Most Australians are familiar with Indonesia's strict drug laws after Schapelle Corby spent years in a Bali prison for drug smuggling and Andrew Chan and Myuran Sukumaran were executed for the same crime.
The police head of Criminal Investigation in Kuta, Ario Seno Wimoko, Murphy is currently still considered "under investigation".
"We have not yet dubbed him as a perpetrator," Wimoko said.
"We suspect him to be one because we found a suspicious substance on him.
Do you think teenagers should be allowed to go to schoolies in Bali? Are you worried about what the outcome will be here?